UQ is committed to ensuring a robust career and performance development approach exists for academic staff, which provides a foundation for the achievement of academic excellence. 
The principles of the academic promotions processes are underpinned by the Academic Promotion Policies and Procedures.
The process assesses that academic staff have demonstrated they meet the expectations of academic excellence for the relevant academic level and category as detailed in the relevant Criteria for Academic Performance Policy.
New Promotion Process
The new process for promotions to Level B is now live.  Use the button below to launch your promotion application (applications for Level B only).
Additional information outlining the specific process for promotions to Level C, D and E will be provided in Q1, 2023 with a number of information sessions to be held and resources to be added to this website.
Once you open the launch page using the button above, select the 'Promotion Application' review template.  If this is not visible, please contact cap@uq.edu.au.
The application for promotion process for Level C, D and E will not be available to launch in Workday until 1 April.
Key Dates and Timelines 
Promotions to Level B 
You can apply for promotion to Level B at any time throughout the year using the promotion process in Workday.  
You will be advised of the outcome as soon as reasonably practicable. Promotions take effect on the first of the month after the promotion decision. 
Promotions to Level C - E 
Key Dates for Applicants (Level C - E)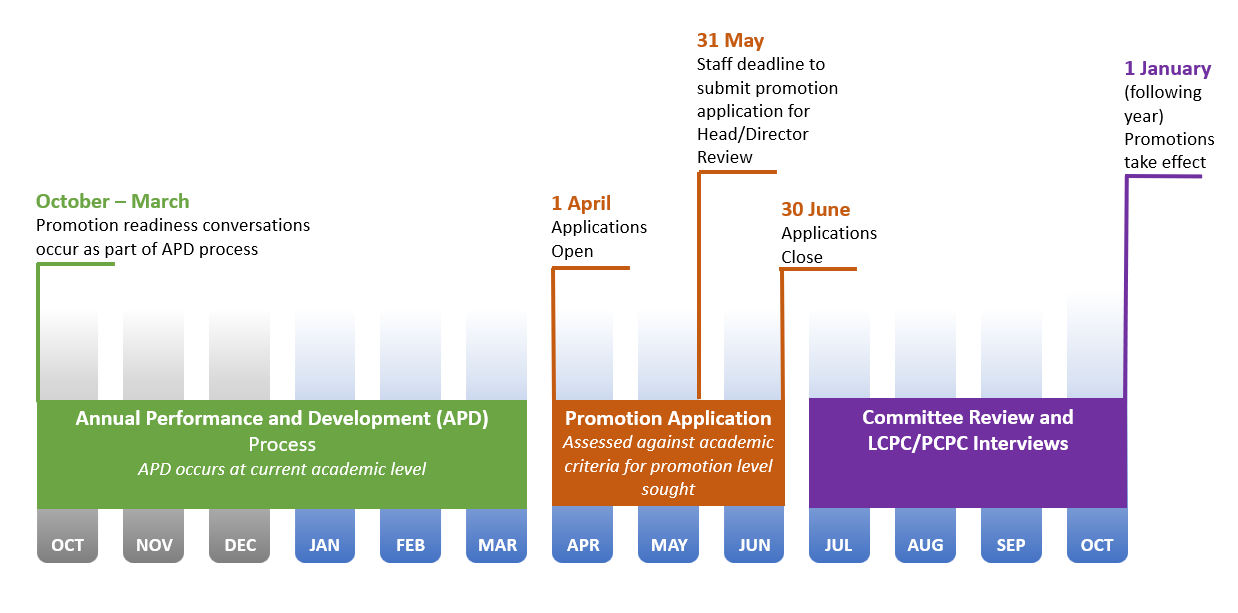 Applications open: 1 April 2023
Promotion applications completed and submitted in Workday: 31 May 2023
All Head/Director/Executive Dean Reports completed and applications close: 30 June 2023
Promotions take effect: 1 January 2024
Academic Promotion Resources
Guides, Videos and Information Sessions
| User Guides | Demonstration Videos |
| --- | --- |
| | Promotion to Level C and above process - Coming soon  |
| Information Sesions | Frequently Asked Questions |
| | |
Additional Information
For the full application process and requirements, read the Confirmation and Promotions (Academic Staff) - Policy [5.41.03]  and Promotion of Academic Staff - Procedures [5.41.04].  
For more information about the Committee Composition and Committee Coverage please refer to the Confirmation and Promotions Committee Guidelines on the procedures page. 
Please send all queries to your local HR Client Partnering team. 
Academic Promotion Process
1. Pre-application Actions
Before applying for a promotion, you should 
Have discussed your promotion readiness with your supervisor as part of your Annual Performance and Development (APD) process; and 

Check the promotion eligibility criteria as outlined in the procedure. 

Update your Individual Activity Profile (IAP) prior to submitting your promotion application. Relevant committee members will be provided with access to your IAP as part of their review (for promotion applications to Level C - E). 
Additional metrics may be useful to help demonstrate your academic contribution as part of your promotion application.  This information can complement the data available via your IAP.  Please see the following library page for further information.