2018 UQ Awards for Excellence
Congratulations to all staff members that were nominated for a UQ Award for Excellence.
The Awards acknowledge and celebrate our achievements, and each year the Awards Selection Committee are amazed by the stellar contributions, innovative work, and exemplary leadership demonstrated by all nominees.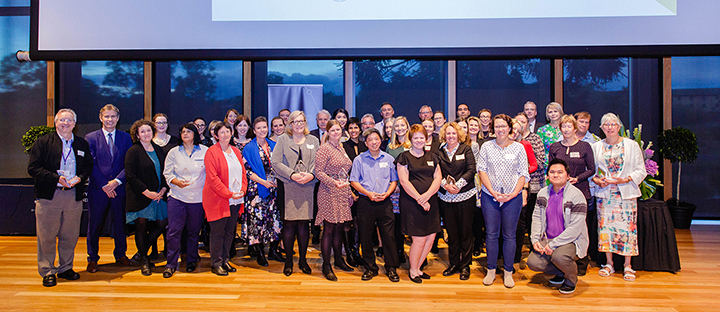 Watch the full ceremony video of the 2018 UQ Awards for Excellence held on 2 July 2018.
Innovation
Winners

Mr Jake Carroll, Queensland Brain Institute

By creating next-generation research computing infrastructure, Jake Carroll is ensuring UQ's world-class researchers can operate unencumbered by technical limitations. Today's cutting-edge science generates huge datasets, and an inability to efficiently handle this data creates a bottleneck that can restrict researchers' productivity. Jake has worked tirelessly to design and implement a suite of high performance computing technologies that overcomes this bottleneck. This required unique problem solving abilities, the skill to facilitate and nurture productive relationships with researchers and suppliers, and a peerless work ethic. UQ therefore now sits at the forefront of research computing infrastructure, with researchers across multiple departments and institutes benefiting. Jake's dedication, innovation and creativity have raised the ceiling of our researchers' efficiency and productivity, letting them maximise the time and energy they can dedicate to tomorrow's discoveries.

UQx Team 

UQ's vision for "Knowledge Leadership for a Better World" aligned with the emerging market for online education through Massive Open Online Courses (MOOCs) when UQ joined edX in 2013. The UQx team was established with a five year timeline to the end of 2017. As a result of UQx's work in this partnership over those five years, UQ has established itself as a global leader in online education.

The UQx team has collaborated widely to provide online education to over 2 million learners via a catalogue of 54 MOOCs and programs, and 20 SPOCs showcasing UQ's teaching and research to a vast global audience.

Strategically, UQx has been influential in supporting forward-thinking academics to develop engaging ways to help students learn. The work of the UQx team, and its global affiliations, has placed UQ at the forefront of international learners' minds as a premier teaching institution.

Nominees:

Mr John Zornig (Team Leader)
Dr Aneesha Bakharia
Ms Catherine Bennett
Ms Wendy Chalmers
Ms Carrie Finn
Mr Ben Gerbanas
Mr Daniel Greenup
Ms Nina Halili
Mr Ankith Konda
Ms Linda Macdonald
Ms Shannon O'Brien
Ms Laura Packer
Mr Matt Petersen
Mr Neville Smith
Dr Sai Sun
Ms Stella Winn

 

Commended

Ms Le Hoa Phan, Institute for Teaching and Learning Innovation 

Le Hoa has delivered significant value to UQ through management of the online student evaluation system for courses and teaching (SECaTs). Her contributions span:

(i) excellence in the policy and governance framework for our student evaluation system by considering the legal, ethical, and practical implications of changes

(ii) a suite of initiatives that have allowed faculties, schools, and teaching staff to improve student learning outcomes through effective use of SECaT surveys

(iii) improvements to the engagements of students in SECaTs including development of a student dashboard, inclusion of teacher photos, and reduced email traffic to students

(iv) contributions to better acceptance of SECaT survey information by staff and students.

UQ has one of the highest student engagement rates in voluntary evaluations in Australia. Under Le Hoa's management, staff and students have found new levels of trust in SECaTs to the benefit of our teaching and learning practices.

Ms Mariki Visser, School of Veterinary Science 

Mariki is a passionate, dedicated leader who has had a tremendous impact on the success of the Veterinary Teaching Hospital (VTH). Mariki has led change management through her ability to communicate a vision and inspire the team to commit to strategies for the vision. Impacts can be aligned to all four criteria for the innovation award and span all aspects of the VTH environment. Mariki led the development of a VTH Operational Plan, providing clarity of roles and responsibilities, performance targets and measures, and aligning operational goals with university plans. Mariki led an innovative lean process review of animal workflow through the hospital, contributing to efficiencies, better workplace culture and work-life balance. Mariki is now leading development of a marketing strategy to better engage with referring veterinarians and animal owning clients, ensuring caseload sustainability in a competitive environment and underpinning all VTH operations.

Candidature Management System Project Team

The Candidature Management System (CMS) project leveraged new enterprise software procured by UQ to provide a more effective solution for HDR candidate administration. This project delivers an end-to-end online HDR administrative service, the first of its kind in Australia. The CMS has created a self-directed experience for HDR students, increased visibility and monitoring for staff, and efficient, automated workflows resulting in reduced manual effort from professional staff and turnaround times of 2 days for students. This project spearheaded the potential use of this software for UQ to utilise across a range of other professional service functions and has laid a foundation for other professional functions to deliver accessible, efficient system tools to support administration across UQ.

Nominees:

Professor Stephan Riek (Team Leader)
Mr Vern Bawden
Ms Belinda Bern
Mr Sam Ferguson
Ms Jodi Phillips
Mr Richard Rerrie
Dr Daniel Walker

Nominated

Mr Jake Carroll, Queensland Brain Institute

By creating next-generation research computing infrastructure, Jake Carroll is ensuring UQ's world-class researchers can operate unencumbered by technical limitations. Today's cutting-edge science generates huge datasets, and an inability to efficiently handle this data creates a bottleneck that can restrict researchers' productivity. Jake has worked tirelessly to design and implement a suite of high performance computing technologies that overcomes this bottleneck. This required unique problem solving abilities, the skill to facilitate and nurture productive relationships with researchers and suppliers, and a peerless work ethic. UQ therefore now sits at the forefront of research computing infrastructure, with researchers across multiple departments and institutes benefiting. Jake's dedication, innovation and creativity have raised the ceiling of our researchers' efficiency and productivity, letting them maximise the time and energy they can dedicate to tomorrow's discoveries.

Ms Kate Drinkwater, Office of Medical Education

Since taking on the role of Project Officer for the eAssessment project in the Faculty of Medicine, Kate Drinkwater has used her background in both assessment and information technology to provide the support needed to grow the project from a small-scale pilot towards whole-of-program implementation. From answering student queries out-of-hours, to providing technical support during early morning exams, and to delivering workshops and information sessions on weekends and at various metropolitan and regional locations, Kate's dedication to the success of the project is unquestionable and the quality of her work is exemplary. The experience and information gathered during this project will be invaluable to others both within and external to the Faculty of Medicine as UQ strives to meet its game-changing Student Strategy goal of building our electronic assessment capability.

Dr Elizabeth Krenske, School of Chemistry and Molecular Biosciences

Elizabeth has had recent outstanding achievements in research. She is an expert on in silico explorations, working on inventive methods in the exploration of reaction mechanisms of organic reactions, chiral catalysts for asymmetric synthesis, drug and biomolecule interactions, and prediction of spectroscopic properties of natural products, just to mention a few. Her computational technologies drive innovation in molecular science, not only at the School of Chemistry and Molecular Biosciences, but globally. Her work has resulted close to 70 scientific papers since 2015 in high impact factor journals. These achievements rewarded her with a UQ Strategic Research Fellowship (2017). Most recently her research has been featured in the inaugural Young Investigator issue of the Journal of the American Chemical Society.

Ms Le Hoa Phan, Institute for Teaching and Learning Innovation

Le Hoa has delivered significant value to UQ through management of the online student evaluation system for courses and teaching (SECaTs). Her contributions span:

(i) excellence in the policy and governance framework for our student evaluation system by considering the legal, ethical, and practical implications of changes

(ii) a suite of initiatives that have allowed faculties, schools, and teaching staff to improve student learning outcomes through effective use of SECaT surveys

(iii) improvements to the engagements of students in SECaTs including development of a student dashboard, inclusion of teacher photos, and reduced email traffic to students

(iv) contributions to better acceptance of SECaT survey information by staff and students.

UQ has one of the highest student engagement rates in voluntary evaluations in Australia. Under Le Hoa's management, staff and students have found new levels of trust in SECaTs to the benefit of our teaching and learning practices.

Mr Pablo Riveros, Faculty of Engineering, Architecture & IT

Pablo joined Medicine's Projects Team with the goal of assessing and introducing new and innovative e-learning resources, in addition to assisting staff with make their current activities more effectively and promoting student engagement. Pablo's approach was perceptive and allowed staff to consider the possibilities that were in their grasp as at that moment with a view to future possibilities. His personable nature and interesting visual work helped the process.

Dr Frances Shapter, School of Veterinary Science

Frances exemplifies using innovation to increase efficacy, agility and learning outcomes at UQ. Student directed learning is the gold standard for technical skill development, as students take ownership of their learning and individualise task and time spent to their individual strengths and achieve proficiency. Over the past 12 months, as the School of Veterinary Science Student Clinical Skills Hub Coordinator, Frances has demonstrated her exceptional ability to apply creativity and innovation to develop a world class veterinary skill training facility, with a tenfold increase in student engagement due to her efforts. She has developed cost effective, authentic simulations supported by a bespoke blackboard site containing a range of multimedia and interactive online learning tools. She secured $12,000K of additional funding via grant applications, and donations and has showcased the facility, at international conferences and national media. Positioning UQ as a world leader in clinical training.

Ms Mariki Visser, School of Veterinary Science

Mariki is a passionate, dedicated leader who has had a tremendous impact on the success of the Veterinary Teaching Hospital (VTH). Mariki has led change management through her ability to communicate a vision and inspire the team to commit to strategies for the vision. Impacts can be aligned to all four criteria for the innovation award and span all aspects of the VTH environment. Mariki led the development of a VTH Operational Plan, providing clarity of roles and responsibilities, performance targets and measures, and aligning operational goals with university plans. Mariki led an innovative lean process review of animal workflow through the hospital, contributing to efficiencies, better workplace culture and work-life balance. Mariki is now leading development of a marketing strategy to better engage with referring veterinarians and animal owning clients, ensuring caseload sustainability in a competitive environment and underpinning all VTH operations.

Dr Chenming Zhang, School of Civil Engineering

Chenming has given excellent support and training to all peers and students involved in his sensor instrumentation projects. He has developed and setup a state of the art system where he can install any type of sensor in tailings and mud-like soils in order to collect relevant data applied to many types of projects. The way he understands and implements his knowledge in instrumentation of sensors is very thorough and his will to overcome challenges helps his team to solve any issue related to collecting data with sensors.

UQx Team

UQ's vision for "Knowledge Leadership for a Better World" aligned with the emerging market for online education through Massive Open Online Courses (MOOCs) when UQ joined edX in 2013. The UQx team was established with a five year timeline to the end of 2017. As a result of UQx's work in this partnership over those five years, UQ has established itself as a global leader in online education.

The UQx team has collaborated widely to provide online education to over 2 million learners via a catalogue of 54 MOOCs and programs, and 20 SPOCs showcasing UQ's teaching and research to a vast global audience.

Strategically, UQx has been influential in supporting forward-thinking academics to develop engaging ways to help students learn. The work of the UQx team, and its global affiliations, has placed UQ at the forefront of international learners' minds as a premier teaching institution.

Nominees:

Mr John Zornig 
Dr Aneesha Bakharia
Mr Ankith Konda
Dr Sai Sun
Ms Catherine Bennett
Ms Linda Macdonald
Ms Wendy Chalmers
Ms Shannon O'Brien
Ms Stella Winn
Mr Matt Petersen
Mr Daniel Greenup
Ms Carrie Finn
Ms Laura Packer
Mr Neville Smith
Ms Nina Halili
Mr Ben Gerbanas

Leadership in Global Development MicroMasters Team

The Leadership in Global Development MicroMasters consists of four MOOCs and a Capstone assessment, showcasing UQ expertise from six different schools, and 60+ leading practitioners globally. The MicroMasters is sequenced with an on-campus Masters of the same name. As of February 2018, the MOOCs had attracted 26,000+ enrolees, from 180+ countries, with 500+ completions.

The Team was among the first in Australia to start developing a MicroMasters. Significantly, it was the second globally after MIT, to issue 15 completing learners with MicroMasters certificates. It was the first in the World to run an online Capstone assessment through edX. The Team worked to extremely tight time lines developing five courses in 18 months, with the usual production time for one MOOC being six months. The Team was at the cutting edge of both UQ and edX systems development, paving the way for three new MicroMasters currently in development at UQ.

Nominees:

Professor Mark Moran
Mr John Zornig
Ms Erin Lord-Lynch
Ms Stella Winn
Ms Linda MacDonald
Ms Joelle Moore
Professor Saleem Ali
Dr Jodie Curth-Bibb
Ms Cordelia Jackson
Dr André Taylor
Associate Professor Bernard McKenna
Ms Cara Herington
Dr Nina Hall
Ms Aneesaha Bakharia
Mr Matt Petersen

Candidature Management System Project Team

The Candidature Management System (CMS) project leveraged new enterprise software procured by UQ to provide a more effective solution for HDR candidate administration. This project delivers an end-to-end online HDR administrative service, the first of its kind in Australia. The CMS has created a self-directed experience for HDR students, increased visibility and monitoring for staff, and efficient, automated workflows resulting in reduced manual effort from professional staff and turnaround times of 2 days for students. This project spearheaded the potential use of this software for UQ to utilise across a range of other professional service functions and has laid a foundation for other professional functions to deliver accessible, efficient system tools to support administration across UQ.

Nominees:

Professor Stephan Riek
Ms Belinda Bern
Mr Sam Ferguson
Dr Daniel Walker
Ms Jodi Phillips
Mr Vern Bawden
Mr Richard Rerrie

UQ Advancement Marketing and Events Campaign Team

Launched in October 2017, Not If, When - The Campaign to Create Change is the first major philanthropic campaign in UQ's history and the first major initiative of its kind by a Queensland university. The campaign allows UQ to galvanise alumni and community interest in the University, providing a better understanding of UQ's importance and impact. By raising this type of awareness and support, we will be able to position UQ as a worthy giving destination and significantly grow our donor base.

The public campaign launch in October 2017, from a marketing, communications and events perspective involved the creation and ongoing support of a significant amount of collateral including the campaign videos, multi-page website, and printed material, in addition to a suite of events.

Nominees:

Mr Ben Thurlow
Mr Mark Schroder
Ms Teresa Winch
Ms Melanie Williams
Ms Hayley Lees

The Good Neighbour Program

Australia's strategy on work integrated learning (WIL) in universities states that linkages with industry are crucial to address global change. Human capital underpins our future capability and competitiveness. WIL integrates theory with practice within a planned curriculum, where students put theory into practice, develop personal and professional skills, and experience what it's like to work in the field. The invaluable real-world experiences prepare students for the work-force, while industry in this case benefit from students that provide a service that would be unmet. The demand for residential aged care (RAC) services is said to triple by 2050, and RAC costs in the past decade have increased > 65%. The Good Neighbour Program (GNP) offers one of the first opportunities for undergraduate psychology students to understand the complex nature of mental health and more specifically the heterogeneous and misunderstood area of ageing, while provided much needed support for industry.

Nominees:

Miss Nicole Walker
Mr Jordan Reutas
Miss Karen Perkins
Dr Nadeeka Dissanayaka
Professor Nancy Pachana

International Admissions Team

With increasing global competition, the International Admissions' team have processed a record number of overseas applications for Semester 1 2018 following on from a record high total in 2017 (50,000). This has resulted in international student growth for UQ and can be attributed to 2 major technology innovations in 2017 - the Online Application System (OLA) and CRM.

International undergraduate (UG) and postgraduate coursework (PGCW) Statistics Sem 1 2018:

19,199 UG and PGCW applicants; 7.4% increase on Semester 1 2017
17,199 unique UG and PGCW applications resulted in an offer for Semester 1 2018; 16% increase compared to Semester 1 2017
13.5% year on year increase in acceptances
Growth in acceptances outside the top 3 markets

To achieve these gains, the team have epitomised UQ values of:

respecting their peers and working collaboratively to resolve work flow issues both centrally and with faculties.
pursuing excellence to harness online systems, implement best practice in change management and streamline processes.

Nominees:

Ms Ana Amaral
Mr Daniel Atto Godoy
Ms Irina Bapst
Ms Jan Barton
Mr Nicholas Bestevaar
Mr Michael Chiam
Mr Devis Chiu
Ms Emily Ducket
Ms Shradha Dwivedi
Ms Lynn Freeman
Ms Felicita Gomez
Ms Miho Hamada
Mr Chase Hardy
Ms Gracie Jin
Ms Irene Jo
Ms Belinda Kennedy
Ms Cha Kesuma
Ms Ellie Kim
Ms Michelle Lawrence
Ms Angela McCann
Ms Tayla Monahan
Ms Annika Paananen
Ms Alexis Piper
Ms Kylie Quillinan
Ms Caroline Rhys-Jones
Ms Melissa Santiago
Ms Parmgi Singh
Ms Jasmina Tihic
Ms Stacey Trimble
Mr Jack Vedia
Ms Tori Wallace
Ms Mia Zhang

ilab UQ

UQ's strategy includes development of an idea acceleration ecosystem and a pipeline of entrepreneurial activity. ilab programs deliver on this mandate, assisting the UQ community to prepare for disruption. ilab supports UQ entrepreneurs through startup experiences with real products and real customers.

Maintaining and building strong partnerships with local and global startup communities, the small ilab team builds UQ startups through:

germinate startup accelerator program
incubation space at Long Pocket
extensive mentor and investor networks
bootcamps providing intense three day experiences including lectures, workshops and pitching
startup internships with Queensland companies
supporting student led entrepreneurial events
global HYPE Sports Accelerator program.

In 5 years, ilab has supported over 160 startups and over 2,000 mentor sessions, making it one of Australia's most experienced accelerators. ilab companies have raised nearly $40m in external funds.

Nominees:

Mr Bernie Woodcroft
Ms Rebecca McIntosh
Mr Sam Pavin
Dr Joan Norton
Ms Julia Pelusi

Conjoint Clinical Academic Project Team

Clinical academics play a critical role in bridging the divide between the University and hospital partners. They are central to the delivery of better and more affordable health care through their ability to drive innovation by drawing on research across the continuum from basic to clinical/translational research. This project, which took place over three years, aimed to resolve complex and cumbersome practices that have undermined the recruitment, management and retention of clinical academics undertaking roles that span both the university and the hospital.

The administrative and legal complexities underpinning these vital roles have frustrated universities, hospitals and clinicians throughout Australia for many years. The negotiation with our key hospital partners of a common procedural, legal and administrative framework for these appointments is a major advance, which will enhance our engagement with the sector and facilitate the development of the next generation of leaders.

Nominees:

Ms Brittany Lunney
Ms Justine Kay
Ms Julie Morrish
Service
Winners

Dr Amanda Carozzi, Institute for Molecular Bioscience 

Passion drives excellence. These words describe the ethos of Dr Amanda Carozzi's dedication to supporting the training of RHD students within the IMB. With nuture, passion, commitment, intellect and expertise, Amanda has facilitated the graduation of nearly 250 research students from the IMB. Her expertise and care for students has shone through, ensuring that the IMB has one of the highest retention rates and fastest completion rates at UQ. Moreover, the spirit of generosity and family created by Amanda has undoubtedly contributed to the IMB's strong alumni cohort that now links IMB to influential positions within academia and a wide network of non-academic sectors, including multi-national companies. Many attribute their success to the commitment of Amanda during a pivotal, defining period in their life-and career-choices. Amanda's service to supporting the mission of UQ in legacy and capability building has known no boundaries and should be applauded in the interest of excellence.

Ms Debra McKenzie, School of Political Science and International Studies 

For eight years, Ms Debra McKenzie has consistently provided exceptional service of outstanding quality to students and staff (academic and professional) in and very much beyond her roles as Senior Administrative Officer (Academic). Students and staff can come to her with virtually any question regarding their study or work in the School, or in the wider UQ environment, and will invariably receive the best advice and guidance possible. Her knowledge and competencies in understanding rules, provisions, and the networked character of services and contact-points at this University are encyclopaedic, and her commitment to translate rules and policies into workable practices for all involved has been a major and indispensable factor in facilitating the School's success. POLSIS staff and students, and the HASS community are deeply indebted to Ms McKenzie's professionalism, and her consistent willingness to go beyond the call of duty.

 

Dermatology Research Centre Admin Team 

The Dermatology Research Centre's (DRC) Administrative team transcends expectations in respect to securing funding, promoting research and engaging the community. They were key coordinators in establishing the Australian Skin and Skin Cancer Research Centre, combining over 40 research teams across UQ and QIMR Berghofer. The team has coordinated numerous events facilitating valuable networking opportunities between researchers and stakeholders. They've held several consumer forums to engage cancer survivors and provide feedback to consumer science to expedite research. They have enthusiastically supported community learning through participation in Scope TV and ABC Catalyst programs. Additionally, through the coordination of clinical research projects, over 1500 public members have had the opportunity to take part in melanoma research. Lastly, the team has passionately driven social media campaign to extend their audience in the pursuit to positively impact skin cancer prevention.

Nominees:

Ms Liz Payne (Team Leader)
Ms Melissa Kerr
Ms Nicole Lin
Ms Clare Primiero
Ms Danika Wadey

UQ-GEMSAS Project Team 

The Doctor of Medicine program attracts around 3000 applicants to the graduate stream each year, requiring complex selection and assessment of each individual applicant.

In Feb 2017, the GEMSAS Consortium announced a new service provider for Graduate Entry Medical Admissions to take effect for the 2018 admissions process commencing in April (just two months later).  This extremely tight implementation timeframe dealing with inexperienced colleagues, posed a significant challenge.

A cross-University team from ITS, PBI and ASD worked together to ensure successful implementation of the new process.  This included training the new service provider staff in UQ's complex admission requirements, ensuring IT specifications and data sets were complete and thoroughly tested, and that the correct offers of study were released to applicants professionally, on time, and without compromised quality of service for UQ's flagship program.

Nominees:

Ms Fiona Brandis-Dalton (Team Leader)
Ms Michelle Boswell
Mr Tuan Dai
Mr Greg Ferris
Mrs Jenny Gill
Mrs Najmeh Rafat
Mrs Sarah Rochford

 

Commended

Ms Ann Tew, School of Education 

For fourteen years our Science Teaching Laboratory Manager, has provided an exceptional quality of service to UQ students and staff in our Primary and Secondary Science Teacher Education Professional programs. Students consistently comment on course evaluations that she has created an outstanding experience for them through her positive, enthusiastic support, advice and contribution to school-based scientific experimental activities. Ann's role is to set up equipment and materials for laboratory-based activities, but she exceeds these expectations by giving her advice, support and encouragement in a very positive and inclusive way to our pre-service teachers. The students comment on how much they consider her a valuable member of the Science Education Team, that she is amazing at creating a safe, supportive, nurturing learning culture within these programs. These significant contributions to excellence in service have created a high level of student satisfaction.

Gross Anatomy Facility Online Training Team 

Dr Claire Aland, a teaching-focused academic, Dr Charlotte Young, Learning Designer, and Ms Trudi Summerhayes, Student Services team leader, collaborated closely to develop and implement online modules for training students and casual staff working in the Gross Anatomy Facility (GAF), within the School of Biomedical Sciences. 

Before working in the GAF, students and casual staff must undertake training in both ethics and health and safety. Moving online allowed over 5000 students and 200 casual staff, in the last two years, to complete their training at a more convenient time. Consequently, they now attend practical anatomy sessions fully prepared, and can concentrate wholly on teaching and learning anatomy.

The initiative shown by Claire, Charlotte and Trudi, and their willingness to dedicate time and effort well beyond their normal workload, resulted in a creative solution to a previously time and effort-intensive process, and contributed to a better student and staff experience.

Nominees:

Dr Clare Aland (Team Leader)
Ms Trudi Summerhayes
Dr Charlotte Young

Nominated

Ms Jane Atkins, Advancement

Jane is a positive, professional, and hard-working Advancement professional, who has provided exceptional support to Alumni Friends - particularly over the last 24 months work on our Golden Jubilee celebrations.  Jane's role includes acting as an important conduit between our volunteer-run association and UQ's Advancement team - providing valuable advice and administrative support. In 2017, Jane's work was certainly 'above and beyond' anything we might reasonably expect.  The highpoint of our year of celebrations was a Gala Lunch, with guest of honour David Malouf AO 'in conversation' with Madonna King. Jane stepped in to professionalise the whole process. Her good humour, hard work, professional interaction with all of our guests (with many VIPs, including a former Governor of Queensland and countless former UQ Alumnus' of the Year) made for an exceptionally successful event. We could not have done it without her. And we are extremely grateful for her 'can do' attitude and hard work.

Mr Karl Bertling, School of Information Technology & Electrical Engineering

Karl has been taking care of our labs for more than 10 years. He has always been a great support to all of the students and researchers using those labs. He has been working well above the duty of care levels. I would not be surprised to see him staying with researchers on finishing critical measurements till late hours. With his diligence and persistence he created a comprehensive system to manage the use of the labs, that are highly expensive in a very efficient manner. With his outstanding role in the labs, he saved the school's budget several hundreds of thousands of dollars every year. He designed and has started recently offering training sessions to HDR students and researchers who have no previous experience in using our state of the art equipment. Those sessions are now compulsory for any researcher who wants to use those labs.

Dr Amanda Carozzi, Institute for Molecular Bioscience

Passion drives excellence. These words describe the ethos of Dr Amanda Carozzi's dedication to supporting the training of RHD students within the IMB. With nuture, passion, commitment, intellect and expertise, Amanda has facilitated the graduation of nearly 250 research students from the IMB. Her expertise and care for students has shone through, ensuring that the IMB has one of the highest retention rates and fastest completion rates at UQ. Moreover, the spirit of generosity and family created by Amanda has undoubtedly contributed to the IMB's strong alumni cohort that now links IMB to influential positions within academia and a wide network of non-academic sectors, including multi-national companies. Many attribute their success to the commitment of Amanda during a pivotal, defining period in their life-and career-choices. Amanda's service to supporting the mission of UQ in legacy and capability building has known no boundaries and should be applauded in the interest of excellence.

Associate Professor Bob Doneley, School of Veterinary Science

Associate Professor Bob Doneley is highly respected both nationally and internationally for his unique expertise, dedication and decades of selfless contributions to his field and the veterinary community at large, contributions that are simply unmatched. Since becoming Queensland's first registered specialist in Avian Medicine in 2003, Bob's knowledge and accessibility as an educator has not only made him very popular among past and current students but also keeps attracting new students to Gatton from around the world. Bob and his team treat over 1200 avian, exotic and wildlife cases annually and Bob personally played a major role in growing the Small Animal Hospital at Gatton from a start-up to a sprawling practice and leading specialist facility. Bob's pioneering efforts and volunteer work has brought the School and University extensive positive media coverage in print, radio and television. Bob has featured at least 16 times in UQ News.

Ms Lesley Green, Centre for Advanced Imaging

Lesley Green is a highly respected member of the CAI community, whose dedication to customer service is unparalleled. Over the past eight years, she has made significant contributions to the Centre through the consistent provision of exceptional customer service to fellow professional colleagues, researchers, students and external stakeholders. In the past twelve months, Lesley has gone beyond the call of duty to help the Centre navigate changes to HR and Finance service provision.

Lesley demonstrates the UQ values in all areas of her job; which have become many and varied over the years. Lesley takes care of over eighty research and professional staff and HDR students, who rely on her for information and advice on a wide array of university policy and operational procedures. She often has a line of people outside her door that she greets with a smile. In addition to her executive duties, Lesley is an active member of the CAI Social Committee, a colleague and confidante to all.

Dr Matthew Holden, Centre for Applications in Natural Resource Mathematics (CARM)

Matthew Holden is a research fellow in the ARC Centre of Excellence for Environmental Decisions and lecturer at the Centre for Applications in Natural Resource Mathematics, whose exceptional service has instigated lasting cultural change at UQ and beyond. Over the past two years, he has created, organized and led over 35 new educational events for UQ students and staff, including professional development workshops, math-bio collaborative problem-solving sessions, skill building tutorials, and a monthly journal club. Through word of mouth from enthusiastic students and staff, Matthew's initiatives have gained a strong reputation, regularly attracting participants across six UQ research centres and three schools. His exceptional service has greatly increased the positive outlook towards mathematics within the biology and environmental science communities, and his impact has extended well beyond UQ through community and government outreach.

Dr Shihu Hu, Advanced Water Management Centre

Dr Shihu Hu is a Senior Research Fellow at the Advanced Water Management Centre, Faculty of Engineering, Architecture and Information Technology. As a Research Focused staff member, he is a Chief Investigator in five major research projects with total budget of over $5 million, a supervisor of 10 PhD students and a lecturer for two postgraduate courses.

This nomination is based on his other contributions as a member of UQ staff. He is currently a Flying Scientist in The Australian Academy of Technology and Engineering (ATSE)'s Wonder of Science program, promoting STEM culture in Queensland, especially to the rural and regional schools and communities. As an Advance Queensland Research Fellow, he serves as the manager of the Queensland Urban Utilities (QUU)-UQ Innovation Centre, which is bringing many benefits to UQ, e.g. providing a technology development/demonstration platform to UQ staff to attract more research funding, giving enhanced learning experiences to UQ students and building outstanding reputation of UQ.

Dr Tamara Keeley, School of Agriculture and Food Science

Dr Tamara Keeley, a Post-doctoral Research Fellow started at the University of Queensland in February 2014. Within her first year, she developed a new Animal Endocrinology Laboratory in the School of Agriculture and Food Sciences, Gatton. This laboratory specializes in the analysis of faecal, urinary, salivary, blow, blubber and blood samples from a wide range of laboratory, domestic and wildlife species for reproductive and adrenal hormones for stress physiology, reproductive biology and animal welfare research. Tamara designed and developed an Animal Endocrinology Techniques training course for students to learn the techniques and facilitate access to the lab. As of March 2018, this training course has been run 8 times with a total of 44 RHD students, interns and postdocs from three University of Queensland's schools, QAAFI and four other Australian universities allowing them to gain valuable analytical laboratory skills and access to the facilities for their own research projects.

Ms Judy King, School of Historical and Philosophical Inquiry

Judy King has provided outstanding service to the School of Historical and Philosophical Inquiry as Postgraduate Administrative Officer. Exemplifying exceptional professionalism, Judy's support of HDR students and academic staff has led to improved processes, improved focus on student experience and welfare, and creative solutions to issues in the HDR space. Judy's exceptional work supporting the HDR cohort has made a major impact on student quality, retention, and completion of candidature, whilst modelling best practice in professional and pastoral support.

Mr Scott Macintyre, Learning and Research Services, Faculty of Medicine

Scott is the library liaison for the School of Public Health (SPH) and an exemplar of how the UQ values can be implemented in practice. Scott is knowledgeable, approachable and highly diligent in all of his dealings. He has always provided exceptional service and willingly imparts his knowledge to staff and students in a model of continual improvement. Scott contributes extensively to the research and teaching activities in SPH - directly teaching into both the undergraduate and postgraduate courses; providing one-on-one support to HDR students and staff members; and, being an active committee member on both the teaching and research committees. One of Scott's many strengths is his respect for student and partner relationships, which includes facilitating an inclusive environment for LGBTIQ students and staff. His passion for his work help to motivate our staff to be better teachers and researchers. Our School would be a poorer place without him.

Ms Diana McCluskey, Graduate Centre in Governance and International Affairs, School of Political Science and International Studies

In 2016 Diana was appointed Manager of the School of Political Science and International Studies new Graduate Centre in Governance and International Affairs. Her role ranges from marketing of the Centre's programs to cohort building activities that will enhance the student experience. Diana has embraced the task of building the Centre with energy and played a crucial part in realising the School's vision for the Centre. She has demonstrated creativity in generating a dynamic on-line presence for the Centre and recruitment events. She has enhanced the Centre's communication with students and helped build inclusivity by organising a series of exciting events that bring students together and enhance learning beyond the classroom. Her creativity and innovation are particularly evident in her establishment of a series of activities that enhance student employability, including a Mentorship program. Throughout her work, Diana places the needs and welfare of students as her top priority.

Ms Debra McKenzie, School of Political Science and International Studies

For eight years, Ms Debra McKenzie has consistently provided exceptional service of outstanding quality to students and staff (academic and professional) in and very much beyond her roles as Senior Administrative Officer (Academic). Students and staff can come to her with virtually any question regarding their study or work in the School, or in the wider UQ environment, and will invariably receive the best advice and guidance possible. Her knowledge and competencies in understanding rules, provisions, and the networked character of services and contact-points at this University are encyclopaedic, and her commitment to translate rules and policies into workable practices for all involved has been a major and indispensable factor in facilitating the School's success. POLSIS staff and students, and the HASS community are deeply indebted to Ms McKenzie's professionalism, and her consistent willingness to go beyond the call of duty.

Ms Erinn Osmond, School of Mathematics and Physics

Since commencing as Facilities Officer in the School of Mathematics and Physics in August, 2017, Ms Erinn Osmond has delivered sustained, outstanding service to staff and students. She very quickly learned the discipline-specific needs of the School's research laboratories, and has been pro-active in finding innovative solutions for a range of tricky technical problems that have arisen. She has been masterful in liaising between the School, the Faculty of Science and Central Property & Facilities, always acting with the University's best interests at heart. She is also playing a key role in logistical planning and information dissemination needed for significant renovations on-going and planned in two separate buildings occupied by the School.  Her calm manner, and her emphasis on transparency and accountability, are greatly appreciated by all. In particular, she has responded promptly and decisively to a number of emergency situations that have arisen during these renovations.

Ms Georgiana Poulter, Institute of Modern Languages

Georgiana Poulter has led the Institute of Modern Languages at UQ since 1999, the custodian of a decision by the 1934 University Senate, to offer evening classes for the community in "any modern language for which there should be sufficient demand". The Institute continues to play an important role in providing staff, students, alumni and the community with language skills, offering classes in 28 languages, as well as translation and customised language training.

To sustain this diverse offering, Georgiana manages an extremely diverse workforce of 85 part-time language tutors from 30 different language backgrounds and over 100 translators and interpreters, working in 65 languages.  Georgiana values the diversity that this richness brings to the Institute, and provides to the community.

Georgiana also contributes to the industry on a national level, as a member of the Australian Association of Language Companies, Adult Learning Australia.

Mr Sebastian Quintero, School of Civil Engineering

Since Sebastian was appointed to manage the Geotechnical laboratories, the organization of the equipment improved greatly, the timing of technical assistance got reduced, the ordering of materials has become easier and overall the laboratories are much more efficient. The management system that he has implemented, gives all laboratory users a much better way to get their tests done and all equipment is well maintained and ready to use. From the moment Sebastian's contribution has been of great help to the general procedures for research testing and commercial projects.

Mr Tristan Schoonens, Library

Introducing new technologies can be tricky. Get it wrong and people will forever remember, get it right and few will notice. Tristan's lead in championing and implementing 'mobility printing' technology on the Library printing system falls into the latter, but has none the less had a very positive impact on the day to day student experience. Its introduction has allowed thousands of students with personal Apple devices to print on the UQ & EduRoam wireless networks with no setup, questions or instructions. The Library printers just appear and work automatically. It is so simple that students discovered it and started using it within minutes of the system going live. It has now processed over 15,000 print jobs. Add to this the fact the technology also simplifies setup on other platforms such as Windows, replacing a cumbersome procedure that often required staff assistance, the achievement becomes even greater.

Mr Jonathan Song, Information and Technology Services

As the IT tech assigned to our Institute, Jonathan is always so helpful and easy to deal with. He understand that we aren't experts in his field and explains things in layman's terms so we could understand what was going on.

In such a busy place as UQ-ICTE, the IT jobs would pile up and Jonathan would work his way through them achieving a very high completion rate within a day and nothing was too much trouble. Jonathan never left a job unfinished and always checked to ensure the end user was happy before closing the job. This was in stark contrast to other technicians we had experienced previously. It is rare to find such a happy and friendly technician who is willing to explain things and ensures all users are happy with his solutions to their IT issues.

Ms Ann Tew, School of Education

For fourteen years our Science Teaching Laboratory Manager, has provided an exceptional quality of service to UQ students and staff in our Primary and Secondary Science Teacher Education Professional programs. Students consistently comment on course evaluations that she has created an outstanding experience for them through her positive, enthusiastic support, advice and contribution to school-based scientific experimental activities. Ann's role is to set up equipment and materials for laboratory-based activities, but she exceeds these expectations by giving her advice, support and encouragement in a very positive and inclusive way to our pre-service teachers. The students comment on how much they consider her a valuable member of the Science Education Team, that she is amazing at creating a safe, supportive, nurturing learning culture within these programs. These significant contributions to excellence in service have created a high level of student satisfaction.

Mr Michael Tse, Office of Research Ethics

I nominate Mr Michael Tse for his contributions of exceptional and consistently high quality of service in the role of LNR Human Ethics Coordinator. Over many years, he demonstrated outstanding knowledge on all elements regarding the process of applying and being granted ethics approval at the University of Queensland. He lives and breath ethics and upholds UQ values of ethical research but knows about the challenges this process provides for researchers and thus, offers incredible help and advice to master these challenges. Through his professionalism, integrity, and enthusiasm in the job, he is always able to explain the rationale for ethics and how to conduct research in an ethical way.  Finally, he is very friendly in his communication and is very responsive at the same time.

Ms Ann-Maree Waugh, HR Division

Ann-Maree Waugh has supported the University in the Enterprise Bargaining process that began in April 2017 and is nearing completion (March 2018). There have been 37 lengthy meetings in this time. Ann-Maree is the 'secretary' for the process, meaning close coordination of Representatives from the three unions, individual Representatives, and the University's negotiating team. Common to all industrial bargaining situations, at times the parties have disagreed about many things - yet one area where there has been no disagreement is about the quality of Ann-Maree's work. Her service to the EB process has been characterised by reliability, diligence, and a consistently positive outlook. From the University's perspective, Ann-Maree's excellent training in law and her knowledge of bargaining across the sector has been invaluable. All those involved in this complex process acknowledge that Ann-Maree has provided outstanding service.

Mr David Wheeldon, Queensland Brain Institute

It is rare to come across an individual who in the midst of the often overloaded and hence very busy work environment, remains calm and respectful to people, no matter their rank or status within an organisation. David Wheeldon is a person who embodies this trait. I've had the pleasure to interact with David in my job role, and he has tutored me when I've made mistakes, but never in a way that has left me feeling crushed or stupid. He has taken the time to pass on his knowledge and experience with the goal of improving performance. As the manager of a team of five staff, and as someone who interacts with a large number of staff daily, I have witnessed David provide an excellent level of service to many within the institute, often under highly pressured conditions, even when he is outwardly showing signs of being clearly fatigued. The manner in which he deals with the pressure of his role is exemplary.

Customs House Kitchen Team

The Kitchen is a fast paced environment that requires working in hot conditions. The team at Customs House consistently deliver excellent service in quality cuisine that enhances and builds The University of Queensland's reputation to the community and other key stakeholders. They are the unsung heroes as they mostly work behind the scenes and predominately receive the praise of their hard work through the Restaurant and Banquet floor staff. A nomination for this award would be heartfelt recognition for the long hours and often stressful shifts that the team endure during peak service times.

Nominees:

Mr Brian Roberts
Mr John Offenhauser
Mr Leo (Jae) Park
Mr Chris Johnston
Mr Troy Cummins
Mr Luke Edwards
Mr William Fitzpatrick
Mr Randy Gravador
Mr Ben Senghaas
Mr Kevin (Kyunggo) Kang
Mr Dylan Langford

Gross Anatomy Facility Online Training Team

Dr Claire Aland, a teaching-focused academic, Dr Charlotte Young, Learning Designer, and Ms Trudi Summerhayes, Student Services team leader, collaborated closely to develop and implement online modules for training students and casual staff working in the Gross Anatomy Facility (GAF), within the School of Biomedical Sciences. 

Before working in the GAF, students and casual staff must undertake training in both ethics and health and safety. Moving online allowed over 5000 students and 200 casual staff, in the last two years, to complete their training at a more convenient time. Consequently, they now attend practical anatomy sessions fully prepared, and can concentrate wholly on teaching and learning anatomy.

The initiative shown by Claire, Charlotte and Trudi, and their willingness to dedicate time and effort well beyond their normal workload, resulted in a creative solution to a previously time and effort-intensive process, and contributed to a better student and staff experience.

Nominees:

Dr Clare Aland
Ms Trudi Summerhayes
Dr Charlotte Young

UQ-GEMSAS Project Team

The Doctor of Medicine program attracts around 3000 applicants to the graduate stream each year, requiring complex selection and assessment of each individual applicant.

In Feb 2017, the GEMSAS Consortium announced a new service provider for Graduate Entry Medical Admissions to take effect for the 2018 admissions process commencing in April (just two months later).  This extremely tight implementation timeframe dealing with inexperienced colleagues, posed a significant challenge.

A cross-University team from ITS, PBI and ASD worked together to ensure successful implementation of the new process.  This included training the new service provider staff in UQ's complex admission requirements, ensuring IT specifications and data sets were complete and thoroughly tested, and that the correct offers of study were released to applicants professionally, on time, and without compromised quality of service for UQ's flagship program.

Nominees:

Ms Fiona Brandis-Dalton
Mr Greg Ferris
Mrs Sarah Rochford
Mrs Najmeh Rafat
Mr Tuan Dai
Mrs Jenny Gill
Ms Michelle Boswell

TetraQ Bioanalytical Services

The TetraQ Bioanalytical Services team is nominated for their ability to consistently provide outstanding and exceptional quality of service to UQ clients and to enhance the professional reputation of the UQ community.

The team is responsible for the development, validation and implementation of bioanalytical assay methods which support numerous clinical studies.  These services are provided on a fee for service basis to research and biotechnology sector clients located in Australia and internationally.

In 2017 the team consistently overcame significant challenges which included tight timelines and high work volumes to complete successfully complete numerous studies to international quality and regulatory standards.

This nomination recognizes the team's commitment and success in providing clients with high quality research data to support the clinical development of new experimental therapies.

Nominees:

Dr Hao Wang
Ms Linda Wright
Mr Michael Vaughan
Dr Chin Wong
Dr Thao Nguyen
Dr Nahid Moghbel
Ms Bansi Rabadiya
Mr Simon Lake

UQ VETS Equine Specialist Hospital

The UQ VETS Equine Specialist Hospital (ESH) embodies the UQ vision of positively influencing society through the creation, preservation, transfer and application of knowledge. The ESH team does this using a three-pronged approach to service including; 1) a 24/7 world class hospital servicing the equine veterinary community, 2) a multilayer integrated approach to teaching of undergraduate and post graduate students, 3) a vibrant team research culture both clinically and from a pure science standpoint.

This team of 8 level C clinical academic staff is made of internationally recognised specialists in surgery (3), medicine (3), emergency and critical care (1), reproduction (1), sports medicine and rehabilitation (1) and radiology (1) (two double specialists). The ESH team brings together leaders in a range of veterinary fields that provides outstanding service to the UQ community by providing clinical services, developing ideas and inspiring the next generation of veterinarians.

Nominees:

Dr Ben Ahern
Dr Francois-Rene Bertin
Dr Natalie Fraser
Dr Carlos Medina-Torres
Dr Albert Sole-Guitart
Dr Allison Stewart
Dr Alex Young
Dr Steven Zedler

UQ Media Campaign Team

This nomination focusses on a single example of an Office of Marketing and Communication-driven approach, in concert with the communications team at QAAFI, to promote UQ's excellence to the world through high quality media packages encompassing video news releases, press releases, still and video images and other assets. This example can't be viewed in isolation. It results from several years of work that has included providing training and advice to researchers such as QAAFI's Dr Lee Hickey, developing video techniques and media contacts, and tailoring content to suit the requirements of an evolving media landscape.

The multi-pronged approach here succeeded in taking world-leading wheat speed-breeding research by Dr Hickey to audiences amounting to more than seven million people around the world, with extensive national and international coverage across print, radio, television and online media for more than two months.

Nominees:

Ms Belinda McDougall
Ms Margaret Puls
Mr Lee Hickey
Ms Carolyn Varley
Mr Matthew Taylor
Mr Dean Law
Ms Hannah Hardy
Ms Tyne Hamilton

Science-OMC Partnership

When Dr Steven Salisbury's study of dinosaur tracks near Broome was published, it received recognition in the world's media thanks to a partnership between academic and professional staff to promote UQ.  Before the publication, Steve worked closely with the UQ Science Faculty Engagement Unit (SEU) and Office of Marketing and Communications (OMC) team members Matthew Taylor and Robert Burgin to carefully prepare a communications-plan to capitalise on the media's interest in dinosaurs. In addition to a media release, the team created video assets and a downloadable images gallery. "Australia's Jurassic Park" has been UQ's best-performing video over the past year with 1.2 million impressions and almost 250000 click-to-play views. The video featured on Business Insider, Washington Post, IFL Science and other news and special interest sites, placing UQ branding front and centre and achieving advertising space rate of around two million dollars.

Nominees:

Dr Steve Salisbury
Mr Matthew Taylor
Ms Jan King
Ms Jackie Mergard
Mr Ho Vu
Mr Robert Burgin

Dermatology Research Centre Admin Team

The Dermatology Research Centre's (DRC) Administrative team transcends expectations in respect to securing funding, promoting research and engaging the community. They were key coordinators in establishing the Australian Skin and Skin Cancer Research Centre, combining over 40 research teams across UQ and QIMR Berghofer. The team has coordinated numerous events facilitating valuable networking opportunities between researchers and stakeholders. They've held several consumer forums to engage cancer survivors and provide feedback to consumer science to expedite research. They have enthusiastically supported community learning through participation in Scope TV and ABC Catalyst programs. Additionally, through the coordination of clinical research projects, over 1500 public members have had the opportunity to take part in melanoma research. Lastly, the team has passionately driven social media campaign to extend their audience in the pursuit to positively impact skin cancer prevention.

Nominees:

Ms Liz Payne
Ms Clare Primiero
Ms Danika Wadey
Ms Melissa Kerr
Ms Nicole Lin

Australasian Kidney Trials Network Clinical Monitoring Team

The Australasian Kidney Trials Network (AKTN) designs, conducts and supports high quality clinical trials focused on improving life for people with kidney disease. The small team of five able clinical research associates manage nine active clinical trials in Australia, New Zealand, USA, UK, China, Mexico and Malaysia.

The team is highly service orientated, working closely with nephrologists, nurses and allied health staff to monitor and coordinate trials, which provide necessary evidence to help kidney disease sufferers. They actively seek to understand the complex nuances and variables inherent in each trial and site, exemplifying the UQ ethos of exceptional research quality and, in their case the delivery of hands-on successful monitoring. Currently, they are working closely with the IT Oracle CRM team to streamline their service utilising technology to return quality and efficiency within their trials. They practice inclusive and healthy working relationships.

Nominees:

Ms Laura Robison
Ms Andrea Valks
Mrs Peta-Anne Paul-Brent
Mrs Julie Varghese
Mrs Ruth Stastny

UQ GVEC Delivery Team

University of Queensland Gatton Vocational Educational Centre (UQ GVEC) has been working collaboratively with the Faculty of Science and the School of Agriculture Food Sciences for a number of years delivering vocational qualifications to undergraduates to enhance the value of their Bachelor degrees.  This model of a joint initiative facilitates students to integrate their theoretical study and work practice experience by supporting a sequential, embedded accomplishment of dual qualifications across both VET and University study in the Bachelor of Veterinary Technology and Captive Animals degrees  providing increased amounts of industry specific practical skills with underpinning knowledge.  This contributes to students gaining increased levels of employability skills and attainment of attributes employers are seeking in the respective sectors.  This model is now being extended across other named degrees within the Faculty of Science where with anticipated similar successful outcomes.

Mr Mark Pace
Ms Di Palmer
Ms Amie Low
Ms Lisa Noffke
Diversity and inclusion
Winners

Ms Pam Schindler, Learning and Research Services 

Pam is an active champion for disability inclusion in education and employment. Pam's work in disability inclusion is wide reaching but key area of focus is on making learning resources, such as books and journals, accessible for all staff and students. Pam's work in sourcing and developing accessible resources is transforming the learning experience of many of our students. This has a massive positive impact on the student experience of our students.

UQ Ally Action Committee 

The UQ Ally Action Committee (AAC) was founded in 2017 and since inception, has achieved outstanding outcomes for staff and students at the University. The AAC comprises a team of highly visible, passionate and tireless champions for LGBTIAQ+ inclusion, who work tirelessly, often in their own time, to situate the University as welcome, safe and highly inclusive place of work and learning for all. Their efforts to support the LGBTIQA+ community were critically important in 2017, during the period of voting for marriage equality. The AAC operates as a highly effective, cohesive team which truly embody the UQ values of 'Mutual Respect and Diversity' and 'Supporting our People'.

Nominees:

Dr Daniel Walker (Team Leader)
Professor Benjamin Burton
Ms Tarriaki Duncan
Ms Stephanie Kerr
Ms Alisa Pratt
Ms Tamma Sorbello
Ms Jordan Tredinnick
Mr Nathan Turville
Dr Dino Willox

 

Commended

Ms Camille Layt, Office of Marketing and Communications 

UQ is committed to improving diversity and inclusion in science, technology, engineering, mathematics, and medicine through the SAGE Pilot of Athena SWAN. Communications and engagement is essential to success in the SAGE Pilot and Camille is a key member of the Communications and Engagement working party. Camille has developed and delivered communications strategies and marketing materials for the SAGE Pilot which have been well received by both internal and external stakeholders. This has been an immense undertaking over and above her role as Corporate Publications Manager at OMC, which in itself is a demanding role.

Professor Paul Young, School of Chemistry and Molecular Biosciences 

Since becoming Head of School for the School of Chemistry and Molecular Biosciences (SCMB) in 2014, Prof Paul Young made gender equity a priority. He founded, and chairs, the school's Gender Equity and Diversity Group to bring awareness and identify solutions to gender equity and diversity issues. Creating this group sent an important message to the whole school, establishing a more inclusive work environment to all. He promoted women networking events at the school and faculty levels. He participates of the male champions for change initiative and continues to engage with the SAGE program, using SCMB as a model. Leading the Gender Equity and Diversity group, Prof Young revised the guidelines for recruiting academics to ensure these processes are inclusive. As a result, STEMM women were hired to the fields of Chemistry and Molecular Biosciences. A mentor to all, he guides staff careers. He celebrates women research in SCMB website and social media. SCMB seminars promote gender equity.

Nominated

Associate Professor Diana Fisher, School of Biological Sciences

In our northern neighbour Melanesia, most people have subsistence livelihoods with low access to higher education and income. The Solomon Islands National University was founded in 2013, and very few people in the country have postgraduate degrees. A/Prof Fisher has been mentoring Melanesian students and graduates at UQ for five years, aiming to facilitate access to tertiary education and postgraduate training, and local representation in conservation. Despite the disadvantages of traditional background and not having English as a first (or second) language, her indigenous students have thrived - completed their theses, disseminated their findings in outreach and scientific publishing, used their data to support community protected areas and IUCN threatened species listings, led successful funding applications, become conservation leaders, and advanced secondary and tertiary environmental education and university staff skills at home.

Associate Professor Joerg Henning, School of Veterinary Science

I nominate Assoc Prof Joerg Henning as a very worthy recipient for the UQ Award for Excellence in Diversity and Inclusion for his outstanding efforts in promoting cultural awareness at UQ. Dr Henning has demonstrated exceptional leadership, innovation and commitment by raising the profile of international students in the School of Veterinary Science and creating appreciation in School staff of the issues facing our students.  Dr Henning identified key concerns of our international students and formulated strategies to address them. Through a variety of activities he has fostered stronger engagement of international students with their domestic colleagues and the wider community. Dr Henning has promoted incorporation of cultural awareness into the School's international student recruitment strategies. His actions and achievements go well beyond those expected of an individual member of the School and have made a positive impact on the experience of our international students.

Mr Stephen Holden, Advancement

Stephen has taken a leadership role in the development and implementation of the Aspire Scholarships a new program that was delivered to disadvantaged, deserving students in 2017 for the first time. Aspire Scholarships help remove some of the barriers to accessing and succeeding at university for students from disadvantaged backgrounds by providing much needed financial support during the transition to tertiary study.

Ms Camille Layt, Office of Marketing and Communications

UQ is committed to improving diversity and inclusion in science, technology, engineering, mathematics, and medicine through the SAGE Pilot of Athena SWAN. Communications and engagement is essential to success in the SAGE Pilot and Camille is a key member of the Communications and Engagement working party. Camille has developed and delivered communications strategies and marketing materials for the SAGE Pilot which have been well received by both internal and external stakeholders. This has been an immense undertaking over and above her role as Corporate Publications Manager at OMC, which in itself is a demanding role.

Ms Pam Schindler, Learning and Research Services

Pam is an active champion for disability inclusion in education and employment. Pam's work in disability inclusion is wide reaching but key area of focus is on making learning resources, such as books and journals, accessible for all staff and students. Pam's work in sourcing and developing accessible resources is transforming the learning experience of many of our students. This has a massive positive impact on the student experience of our students.

Ms Tamma Sorbello, HR Division

Tamma is an outstanding champion in the UQ community for diversity and inclusion. Tamma's self-leadership in diversity and inclusion actively contributes to positive cultural change across the University and inspires others to be more inclusive. Tamma embeds diversity and inclusion into everything that she does, applying a diversity and inclusion lens to everything that she does. Tamma's excellence in diversity and inclusion is deserving of recognition as she contributes so much to the UQ community.

Mr Patrick Testa, Faculty of Science

Patrick Testa's commitment to enhancing and delivering diversity and inclusion outcomes for the staff community at UQ has been exceptional. As Faculty Executive Manager for the Faculty of Science, he has embedded diversity and inclusion practices across a range of diversity areas. Patrick also serves on University committees dedicated to improving Diversity and Inclusion. He is a member of the UQ Self-Assessment Team for the SAGE pilot of Athena SWAN and a member of the Aboriginal and Torres Strait Islander Employment Steering Committee. He contributed to the development of the Aboriginal and Torres Strait Islander Employment Strategy 2016-2017 and ensured that the Faculty of Science is positioned to achieve outcomes set out in the strategy. Patrick's support of LGBTIAQ+ people at UQ as part of the UQ Ally Network and role in championing disability inclusion through the Disability Action Plan give an insight into his commitment to UQ's values especially diversity and equity.

Professor Paul Young, School of Chemistry and Molecular Biosciences

Since becoming Head of School for the School of Chemistry and Molecular Biosciences (SCMB) in 2014, Prof Paul Young made gender equity a priority. He founded, and chairs, the school's Gender Equity and Diversity Group to bring awareness and identify solutions to gender equity and diversity issues. Creating this group sent an important message to the whole school, establishing a more inclusive work environment to all. He promoted women networking events at the school and faculty levels. He participates of the male champions for change initiative and continues to engage with the SAGE program, using SCMB as a model. Leading the Gender Equity and Diversity group, Prof Young revised the guidelines for recruiting academics to ensure these processes are inclusive. As a result, STEMM women were hired to the fields of Chemistry and Molecular Biosciences. A mentor to all, he guides staff careers. He celebrates women research in SCMB website and social media. SCMB seminars promote gender equity.

Australian Institute for Bioengineering and Nanotechnology (AIBN) Gender Equity Commission

The AIBN Gender Equity Commission seeks to address gender imbalance in scientific research by developing and implementing initiatives that support and promote gender equity. The Commission also seeks to raise visibility and awareness of gender issues in the workplace. The Commission is a leader in the University community in regards to diversity and inclusion and has demonstrated innovation, commitment and excellence in their approach.

Nominees:

Professor Linda Lua
Professor Alan Rowan
Professor Debra Bernhardt
Dr Zoe Cahill
Professor Ernst Wolvetang
Dr Esteban Marcellin Saldana
Associate Professor Jessica Mar

Gender Equity Working Group (GEWG)

Since its inception, the Gender Equity Working Group (GEWG) has become MRI-UQ's cornerstone for ensuring equality and inclusion in the research arena, actively advocating for gender equity and allocating substantial funding and support initiatives to assist female researchers to advance their careers, e.g., the Strategic Grant for Outstanding Women to support high potential female researchers; a senior-to-junior mentoring program among female academics; and tailored flexible working arrangements and return-to-work policies. Leading by example, the GEWG has provided the "vision for change" enabling MRI-UQ to be at the forefront of gender equity in research-as acknowledged by the 2017 Employer of Choice Small Business Award at WIT Awards for "clearly recognising the challenges that women face in climbing the academic ladder" and the 2017 Equity Trustees award of $946000 towards supporting the development of mid-career researchers through the Career Track Fellow and Gender Equity programs.

Nominees:

A/Prof Allison Pettit
Mrs Peta Scott
Dr Dhanisha Jhaveri
Dr Linda Gallo
A/Prof Ingrid Winkler
Professor Geoffrey Faulkner
Dr Corinne Alberthsen
Professor Brian Gabrielli
Professor Josephine Forbes
A/Prof Kristen Radford

UQ Ally Action Committee

The UQ Ally Action Committee (AAC) was founded in 2017 and since inception, has achieved outstanding outcomes for staff and students at the University. The AAC comprises a team of highly visible, passionate and tireless champions for LGBTIAQ+ inclusion, who work tirelessly, often in their own time, to situate the University as welcome, safe and highly inclusive place of work and learning for all. Their efforts to support the LGBTIQA+ community were critically important in 2017, during the period of voting for marriage equality. The AAC operates as a highly effective, cohesive team which truly embody the UQ values of 'Mutual Respect and Diversity' and 'Supporting our People'.

Nominees:

Dr Daniel Walker
Ms Jordan Tredinnick
Ms Tarriaki Duncan
Ms Tamma Sorbello
Professor Benjamin Burton
Mr Nathan Turville
Ms Stephanie Kerr
Ms Alisa Pratt
Dr Dino Willox

School of Architecture Social Engagement and Outreach

The team from the UQ Architecture have developed two impactful and innovative projects that aim to actively engage students, alumni, the general public and the architecture profession in solving the issues facing disadvantaged sectors in society. These include First Nations people and those experiencing homelessness. The projects provide direct support to these groups through community fundraising, which itself raises awareness of these issues within the School of Architecture and the wider profession. The design and delivery of these activities - where students are empowered and mentored to take leadership roles - develops a sense of being able to create change in the community. Students are encouraged to think about their roles as future professionals with responsibility and agency to make a meaningful contribution beyond their own interests. The programs engage students in their advocacy and aim to diversify the student body through support to disadvantaged students and communities.

Nominees:

Dr Kelly Greenop
Mr Michael Dickson
Wellness and safety
Winners

Faculty of Health and Behavioural Sciences (HaBS) Safety and Wellness Team 

The HaBS Faculty WHS team are a cohesive group of safety professionals who work across the schools and centres engaging at all levels through proactive initiatives based on the Health Safety and Wellness (HSW) priorities.  The team support our people to enable them to safely achieve their teaching and research goals by listening coaching and actively assisting.  This in turn ensures our students have a safe environment in which to learn.

The team exemplifies best practice and meets regularly at their POET (Pursuit of Excellence Tactical) meeting to assist each other and discuss opportunities for innovation.  With limited resources, team members willingly share their knowledge and resources across the Faculty to ensure positive and impactful outcomes.  Recent examples include development of clinical teaching module and tools for placement assessment.

Nominees:

Ms Leanne Ritchie (Team Leader)
Mrs Roxanne English
Ms Alison Freriks
Dr Kate Kollar
Ms Suzanne O'Hagan
Mr Dion Scott
Ms Anne Tobin
Mr Gary Wilson

 

Commended

Dalby Dental Clinic 

The School of Dentistry has partnered with Goondir Health Services to provide dental services to the communities of Dalby and St George. The rural clinics are satellite clinics of the Oral Health Centre and provide residents of Dalby, St George and the wider Western Downs region with dental care. Dr Kelsey and the team at the Dalby Dental Clinic remain passionate about not only providing a world class learning environment for the fifth year students of the Bachelor of Dental Science (Hons) program, but also enhancing the services available to the local community. The Dalby Dental Clinic team provide professional hands on training and support for the visiting students delivering a supportive and encouraging learning environment with their safety and wellbeing paramount to the clinics successful operation. (picture: Professor Pauline Ford, Head, School of Dentistry accepts the teams' award).

Nominees:

Dr Ralph Kelsey (Team Leader)
Ms Halina Nettelfield
Ms Jade Utz

Nominated

Mr Rob Du Plooy, Maintenance, Property and Facilities

Ladder Tag. Rob has been an active member of the P&F OHS Committee since 2014. Being an OHS rep has many privileges including representing your fellow workers at the committee and the opportunity to discuss OHS issues directly with a senior manager. In the case of P&F this is the Associate Director Campus Operations. However with the many privileges is also the expectation that the OHS rep performs an inspection of his/her local area. All P&F reps do their duty but Rob has gone beyond this duty to develop a completely new system of ladder inspections. The traditional system used at P&F was to have tick sheet for each ladder and to have this stored in a file in the office. Rob on his own initiative developed a new system of using tags instead of the separate form in so doing the ladders serviceability is clearly marked on the ladder.

HaBS Safety and Wellness Team

The HaBS Faculty WHS team are a cohesive group of safety professionals who work across the schools and centres engaging at all levels through proactive initiatives based on the Health Safety and Wellness (HSW) priorities.  The team support our people to enable them to safely achieve their teaching and research goals by listening coaching and actively assisting.  This in turn ensures our students have a safe environment in which to learn.

The team exemplifies best practice and meets regularly at their POET (Pursuit of Excellence Tactical) meeting to assist each other and discuss opportunities for innovation.  With limited resources, team members willingly share their knowledge and resources across the Faculty to ensure positive and impactful outcomes.  Recent examples include development of clinical teaching module and tools for placement assessment.

Nominees:

Ms Leanne Ritchie
Ms Anne Tobin
Ms Alison Freriks
Mr Dion Scott
Mr Gary Wilson
Dr Kate Kollar
Mrs Roxanne English
Ms Suzanne O'Hagan

CommArts Administration Team

In 2017, the School of Communication and Arts front office staff implemented a rotating, monthly curated exhibition board in the main reception, to offset some of the anxieties around job redundancies and system changes; re-focus attention and energy towards creative endeavours; and contribute to a positive and cohesive work culture. Utilising their own free time, and largely recycled materials, the front office staff have showcased: photography, sculpture, a laser-cut board game, quizzes, philosophical questions, visual riddles - to name a few.  Since the implementation of the rotating exhibition, front office conversation has focussed on creativity, passion and enthusiasm; which cannot but help feed into our interactions with students. The resulting creative environment has fostered a positive and healthy work atmosphere in the front office and other parts of the school.

Nominees:

Ms Stormy Wehi
Mr Sven Fea
Ms Alison Buckley
Ms Nathacha Subero
Mr Daniel Van Zutphen

Dalby Dental Clinic

The School of Dentistry has partnered with Goondir Health Services to provide dental services to the communities of Dalby and St George. The rural clinics are satellite clinics of the Oral Health Centre and provide residents of Dalby, St George and the wider Western Downs region with dental care. Dr Kelsey and the team at the Dalby Dental Clinic remain passionate about not only providing a world class learning environment for the fifth year students of the Bachelor of Dental Science (Hons) program, but also enhancing the services available to the local community.The Dalby Dental Clinic team provide professional hands on training and support for the visiting students delivering a supportive and encouraging learning environment with their safety and wellbeing paramount to the clinics successful operation.

Nominees:

Dr Ralph Kelsey
Ms Jade Utz
Ms Halina Nettelfield

Storm and Wildfire Chasers

Imagine measuring and mapping plumes of particles  in thunder storms using Doppler radar (that can thicken your eyeball fluid and cook your brain!). Then do the same with Australian wildfire plumes. This research group have previously documented risk assessments to mitigate several high risk activities, and achieved award winning academic results in this field.

Contemporary safety expects a sound 'Safe Operating Procedure' (SOP) that includes identified supervisors, individual team member tasks, effective controls, firm decision points, emergency procedures, effective two way communication plans, and post-activity debriefs and review. 

This group have documented an effective SOP from their relevant risk assessments which is professionally accepted by Govt agencies and industry by mitigating the high risk activities, without incident (to date), and also achieved the prime teaching and research endeavour with awards.

I am impressed by this academic endeavour.

Nominees:

Professor Hamish McGowan
Mr Nicholas McCarthy
Mr Joshua Soderholm
Leadership
Winners

Professor Mary Garson, School of Chemistry and Molecular Biosciences 

Mary Garson came to UQ in 1990 as the first female academic in the Chemistry Department and is now a Professor of Chemistry. She has taught and coordinated organic chemistry courses to generations of students at the St Lucia campus, and further contributed to courses in marine science and biological chemistry. She has led initiatives at school level to improve quality assurance of course offerings, or which have promoted engagement with domestic and international students or with industry stakeholders. Externally, she has made exemplary service and leadership contributions to the chemistry profession within Australia (through the Royal Australian Chemical Institute), while her many international activities and leadership roles in the International Union of Pure and Applied Chemistry (IUPAC) have ensured that Australian chemistry is identified as a key player on the global stage. Throughout her career she has worked tirelessly to improve the environment for women in the sciences.

Ms Nicole Makoviney, Office of Research Ethics 

The University's Research and Innovation portfolio has championed a significant and far-reaching transformation of research ethics at UQ, with an initial focus on Human Research Ethics and subsequent initiatives now building momentum in Animal Ethics.

After two years of effort in revitalising University-wide Human Research Ethics administration, UQ's systems and supporting structures have been re-envisaged and re-built at a foundational level. As the inaugural Director of Research Ethics at UQ, Nic Makoviney (nee Shively) has taken a major leadership role in the transformation, working closely with the Deputy Vice-Chancellor (Research) and numerous dedicated UQ colleagues, who have collaboratively seen the change process through to successful implementation. Nic's achievement is sustained, prolific in the quanta of new initiatives conceived and delivered, and of University-wide scale and impact. In this work, Nic has gone above and beyond the call to create positive change at UQ.

Research Outputs and Impact Team 

The Research Outputs and Impact Team (RO&I) within the UQ Library provide unique services to the UQ community which span publication analysis, bibliometrics (including collaboration metrics, alternative and impact metrics) and research data management.

The team have approached their work with strategic intent, demonstrated by the fact that the range and scale of activities undertaken by the team have evolved in response to major global, national and University drivers. These include university rankings and federal government research evaluation exercises, research collaborations and national/international partnerships as well as supporting individual researchers with grant applications.

Nominees:

Dr Amberyn Thomas
Ms Sarah Brown
Ms Fei Yu
Ms Jill McTaggart
Ms Kathleen Smeaton
Ms Elisha Bignell
Ms Sarah Evans
Ms Joy Schonrock
Ms Susan Wilson
Dr Trung Ngo
Ms Sheryl Clarke-Holmes

 

Commended

Ms Lara Atzeni, School of Earth and Environmental Sciences 

As School Manager, Lara Atzeni has purposefully led a major change process during merger of two former schools into the new School of Earth and Environmental Sciences. She has been involved from operational planning through to implementation. That this has occurred seamlessly despite coincided with the ESS HR and Finance transformation demonstrates her outstanding skills and is to her credit. Operational planning is clearly mapped to strategic development with excellent support for school management at the same time as downstream implementation. Lara has led her team through significant challenges while maintaining staff morale and simultaneously achieving greater workplace efficiency and contributed to faculty senior professional initiatives. Finance, resources and staff from schools with distinctly different cultures and histories were merged efficiently and effectively amidst the ESS background. Lara has fully supported staff and students in all endeavours.

Professor Nick Hawkins, Office of Medical Education 

Professor Hawkins has led the implementation of a new strategic direction for teaching, learning and assessment of medical students in the final and penultimate years of the Medical Program. By standardising what has previously been a rotational teaching sequence across the clinical years, Professor Hawkins has drawn together craft groups from disparate medical subspecialities to break down the artificial barriers between these groups and allow a patient-focussed, holistic and integrated experience for senior medical students. It is anticipated that this will translate into future clinical practice by equipping students with generic skills and an integrated understanding of the multidisciplinary nature of medicine to promote high quality, whole patient care. Further, it is hoped that this evolutionary change in approach to medical education will have a positive impact on health outcomes for the community, especially for those from disadvantaged groups. (picture: Professor Geoff McColl, Executive Dean, Faculty of Medicine accepts Nick's award).

Nominated

Professor David Abramson, UQRI

Research integrity is more critical than ever for university reputation. Professor David Abramson has created a uniquely imaginative and innovative way to encourage researchers to discuss and engage with issues of academic research and personal integrity. His play, 'Purely Academic', follows an early career researcher interacting with and manipulating various supervisors in order to 'beat the system'. In exploring considerations such as claims to primary research, academic standards, authorship, peer review, trust and even the politics of office size, 'Purely Academic' examines research integrity in a highly engaging, thought-provoking humorous manner. In writing 'Purely Academic' and pursuing its performance David has stepped outside the bounds of professional comfort for a Professor whose expertise lies in high performance computing and has instead created a vehicle for engaging our UQ community and beyond in a conversation about what it means to be part of the research endeavour.

Ms Lara Atzeni, School of Earth and Environmental Sciences

As School Manager, Lara Atzeni has purposefully led a major change process during merger of two former schools into the new School of Earth and Environmental Sciences. She has been involved from operational planning through to implementation. That this has occurred seamlessly despite coincided with the ESS HR and Finance transformation demonstrates her outstanding skills and is to her credit. Operational planning is clearly mapped to strategic development with excellent support for school management at the same time as downstream implementation. Lara has led her team through significant challenges while maintaining staff morale and simultaneously achieving greater workplace efficiency and contributed to faculty senior professional initiatives. Finance, resources and staff from schools with distinctly different cultures and histories were merged efficiently and effectively amidst the ESS background. Lara has fully supported staff and students in all endeavours.

Professor Luke Connelly, Centre for the Business and Economics of Health

Luke led the development and served as Acting Director of the Centre for the Business and Economics of Health over a period of 2 years. This involved developing strategic objectives, pursuing excellence in research and translation by (1) recruiting a complement of high achieving academic staff with interests aligned to the centres objectives and (2) engaging with stakeholders and funding partners to inform research priorities and problem identification. This was completed with his leading role in the identification and recruitment of the Centre's first full time Director in February 2018. These achievements were in addition to fulfilling his professional obligations and expectations in order to establish the basis of UQ becoming a recognised Centre of Excellence in the business and economics of health at regional, national and international levels.

Dr Glen Fox, Centre for Nutrition and Food Sciences

Dr Glen Fox is a Senior Research Fellow at the Centre for Nutrition and Food Science of the Queensland Alliance for Agriculture and Food Innovation from where he leads an international team of grain researchers who are improving food quality and food safety on a global scale. Food quality and safety is crucial for subsistence farmers in developing countries and also important to food industries where food safety is a matter of public health and long term agricultural sustainability. His leadership extends from UQ to Stellenbosch University in South Africa, as an Adjunct Professor, as an Affiliated Scientist at the International Livestock Research Institute in Kenya and also as an Affiliated Scientist of the Biosciences Eastern and Central Africa. The impact of his leadership has been recognised by his appointment to The College of Experts in Food Systems at the Global Change Institute and Fellowship with the international Institute of Brewing and Distilling.

Professor Mary Garson, School of Chemistry and Molecular Biosciences

Mary Garson came to UQ in 1990 as the first female academic in the Chemistry Department and is now a Professor of Chemistry. She has taught and coordinated organic chemistry courses to generations of students at the St Lucia campus, and further contributed to courses in marine science and biological chemistry. She has led initiatives at school level to improve quality assurance of course offerings, or which have promoted engagement with domestic and international students or with industry stakeholders. Externally, she has made exemplary service and leadership contributions to the chemistry profession within Australia (through the Royal Australian Chemical Institute), while her many international activities and leadership roles in the International Union of Pure and Applied Chemistry (IUPAC) have ensured that Australian chemistry is identified as a key player on the global stage. Throughout her career she has worked tirelessly to improve the environment for women in the sciences.

Ms Katie Gollschewski, School of Architecture

Katie has been integral to the changing of culture within the school through her leadership as School Manager (Acting). Katie has taken on this role with gusto and has implemented many positive changes during her time including, most recently, streamlining school procedures and generating numerous process based initiatives. This has vastly improved both the student experience and staff culture. Her big picture thinking, 'don't sweat the small stuff' leadership approach, and pursuit of excellence has in turn created a cohesive team environment between both academic and administrative teams. Katie encourages creative thinking from the team and has recently developed a Business Procedures Plan for the professional staff to build upon. This is just one of the initiatives Katie has implemented in the small time that she's been a valuable part of the School.

Professor Nicholas Hawkins, Office of Medical Education

Professor Hawkins has led the implementation of a new strategic direction for teaching, learning and assessment of medical students in the final and penultimate years of the Medical Program. Through the administrative process of semesterising what has previously been a rotational teaching sequence across the clinical years, Professor Hawkins has drawn together craft groups from disparate medical subspecialities to break down the artificial barriers between these groups and allow a patient-focussed, holistic and integrated experience for senior medical students. It is anticipated that this will translate into future clinical practice by equipping students with generic skills and an integrated understanding of the multidisciplinary nature of medicine to promote high quality, whole patient care. Further, it is hoped that this evolutionary change in approach to medical education will have a positive impact on health outcomes for the community, especially for those from disadvantaged groups.

Dr Anne Hill, School of Health and Rehabilitation Sciences

Dr Anne Hill has pioneered innovative simulation research to enhance the clinical courses and clinical experiences for students within the UQ Speech Pathology program. Recognised both nationally and internationally as a leader in health care simulation, over the past three years Anne has skilfully led a large team of collaborators from six Australian universities to conduct Commonwealth funded research aimed at "Embedding Simulation in Speech Pathology Education". Anne's personal integrity and long term commitment to student learning underpins her leadership style which has fostered a culture of enthusiastic researchers, students and educators who are inspired to advance the use of simulation in the clinical training of speech pathology students. Recently Anne was accepted as a Senior Fellow of the Higher Education Academy which recognises personal and institutional commitment to professionalism and leadership in learning and teaching in higher education.

Professor Linda Lua, UQ Protein Expression Facility

Professor Linda Lua, founding director of the UQ Protein Expression Facility (PEF) is a true embodiment of UQ leadership values and 'One UQ culture'. The international reputation and success of PEF as an exemplar of UQ Research Infrastructure is a tribute to her outstanding leadership. Through her leadership approach of building strong teams and developing future leaders, Linda has positively influenced the culture of PEF by valuing who we are as individuals, not just what we can do. She motivates and inspires each of us to inquire, innovate, reflect and learn. Linda supports the team with transparent and accountable leadership built on mutual respect, inclusivity and the highest level of integrity. Linda Lua is a lighthouse in UQ leadership, illuminating the future through the development of others.

Ms Nicole Makoviney, Office of Research Ethics

The University's Research and Innovation portfolio has championed a significant and far-reaching transformation of research ethics at UQ, with an initial focus on Human Research Ethics and subsequent initiatives now building momentum in Animal Ethics.

After two years of effort in revitalising University-wide Human Research Ethics administration, UQ's systems and supporting structures have been re-envisaged and re-built at a foundational level. As the inaugural Director of Research Ethics at UQ, Nic Makoviney (nee Shively) has taken a major leadership role in the transformation, working closely with the Deputy Vice-Chancellor (Research) and numerous dedicated UQ colleagues, who have collaboratively seen the change process through to successful implementation. Nic's achievement is sustained, prolific in the quanta of new initiatives conceived and delivered, and of University-wide scale and impact. In this work, Nic has gone above and beyond the call to create positive change at UQ.

Mr Partha Narayan Mishra, School of Civil Engineering

Beyond his academic endeavours, Partha has constantly been involved in several activities promoting postgraduate (14,000+) and international student experience within UQ and in Brisbane through his roles as the UQU Postgraduate officer (2017), Chair of the EAIT postgraduate conference (2018), HDR member of the SEC of the academic board of UQ (2017), and an International Student Ambassador for India to the city of Brisbane (2017). His goal oriented approach and efforts to promote representation, networking and support for the research and international student community has been very successful and well received by his peers and the community. Recently, his achievements towards the initiatives in getting involved with the community, leadership, and engagement have been acknowledged by the Queensland Government through the IET (International Education and Training) Excellence Award (2017). So, our nomination deserves recognition for promoting diversity and inclusion within UQ and beyond.

Ms Felicity Ray, HR Division

Throughout an extremely challenging year for Human Resources, Felicity Ray demonstrated strong leadership, support and innovation to the Institute and Faculty of Engineering, Architecture and Information Technology (EAIT) HR Professional Service Teams (PST). During a time of rapid change and uncertainty Felicity stood tall and took ownership to lead her teams through the challenges. Felicity supported her people to ensure the PSTs were able to collaborate, innovate and implement improvements to achieve consistent HR operations. In addition to the leadership Felicity provided to the HR PSTs, she also worked extremely closely with six separate executive leadership teams across the Institutes and EAIT. Communicating and collaborating with influence with each leadership team to ensure they were informed of the strategic HR changes, challenges and operational direction being implemented. Overall, Felicity's industrious leadership and support over the last 12 months has positioned the Institutes and EAIT HR PST in a high performing state that has and continues to achieve results.

Ms Donna Reidlinger, Centre for Health Services Research

Donna has been a part of the Australasian Kidney Trials Network (AKTN) for the last 9 years, and has led the clinical operations team for the last 4 years, recently overseeing its expansion from 7 to 12 team members. She works tirelessly to engage kidney research collaborators to form sustainable relationships and drive investigator-initiated nephrology clinical trials with kidney researchers from UQ. Her upbeat can-do attitude has enabled the success of the team both in diversity and in the ability to secure competitive NHMRC grants to power this growing not-for-profit network. Her integrity-led leadership skills has ensured she has embraced the role to the highest of standards, always balancing the needs of AKTN and the diversity and well-being of her team.

Ms Megan Sandaver, School of Economics

Megan is a tremendous asset to the School of Economics. As Manager, Coursework Students and Prog, she thinks and works strategically to improve the experiences of our students, the quality of our courses and programs and to have them in line with UQ policies and fostering UQ strategies. She is extremely professional and is an example of integrity and credibility in her day-to-day work. In the teaching environment, we often face challenges. Then, she can lead and achieve results. An example of this has been the migration to the new BB site within our school. Without a dedicated UQ-learning person within our school, Megan took initiative, took the lead, setup a team and ensured that all semester 1 courses had migrated to the new BB site. Thanks to her hard work, this process was flawless and painless to the course coordinators. That's just an example of her outstanding work, which we see daily. Thank you Megan.

International Marketing and Communications

UQ International Marketing and Communications (UQIMC) is leading a significant change by spearheading a cross-University approach to digital marketing campaigns. The approach embraces the "One UQ" ethos.

This leadership is demonstrated by the collaboration between UQIMC and the Science Faculty to successfully execute international "Science" campaigns in 2017.   

The UQIMC team have also led UQ's first marketing automation campaign to convert international made offers for Semester 1 2018. The campaigns involving ITS CX and Faculties contributed towards:

ceasing a 3 year decline of UQ's annual conversion rate (%) in Semester 1 2018
3.9% increase in conversion for 39.5% of  prioritised programs compared to Semester 1 2017.  

The UQIMC team has demonstrated leadership through:

building a culture of  collaboration, progress and resilience;
fostering strategic thinking;
utilising resources efficiently; 
creating a performance-based culture.

Nominees:

Mrs Colleen Stillman-Cheng
Ms Lara Murrary
Ms Lisa Mahoney
Mr Sumendra Pooni

Research Outputs and Impact Team

The Research Outputs and Impact Team (RO&I) within the UQ Library provide unique services to the UQ community which span publication analysis, bibliometrics (including collaboration metrics, alternative and impact metrics) and research data management.

The Team have approached their work with strategic intent, demonstrated by the fact that the range and scale of activities undertaken by the Team have evolved in response to major global, national and University drivers. These include university rankings and federal government research evaluation exercises, research collaborations and national/international partnerships as well as supporting individual researchers with grant applications.

Nominees:

Dr Amberyn Thomas
Ms Sarah Brown
Ms Fei Yu
Ms Jill McTaggart
Ms Kathleen Smeaton
Ms Elisha Bignell
Ms Sarah Evans
Ms Joy Schonrock
Ms Susan Wilson
Dr Trung Ngo
Ms Sheryl Clarke-Holmes

The School of Public Health Indigenous Women's Health Research Team

The UQ Indigenous Women's Health research team has broken the silence on the challenges faced by some Indigenous girls and women in remote communities during menstruation, which can impact on school attendance. The researchers have shown leadership in investigating a delicate issue with sensitivity and in partnership with Aboriginal and Torres Strait Islander women. The initial publications from UQ resulted in: partnerships with Indigenous women and Indigenous organisations to identify and trial culturally-appropriate responses; a Federal Senate motion that cited the UQ research; an approach by the Minister for Indigenous Affairs to UQ to expand this work and identify responses; and 4 funded partnership projects. They also initiated the appointment of UQ's only Aboriginal adjunct professor in the Faculty of Medicine. The team deserves recognition of their leadership and for responding to a current health issue through high-impact research, political and cultural actions.

Nominees:

Dr Nina Hall
Dr Britta Wigginton
Dr Tamzyn Davey
Adjunct Professor Sandra Creamer