2022 UQ Awards for Excellence
Congratulations to all staff members who were nominated for a UQ Award for Excellence.
These awards celebrate leadership behaviour and staff achievement across all levels of the organisation, regardless of position. Each year the Awards Selection Committee is amazed by the outstanding contributions, innovative work and exemplary leadership demonstrated at UQ.
This year, 119 individuals and teams were nominated across 7 categories, totalling 425 individuals. We also introduced the UQ Award for Excellence in Community to recognise those who have implemented innovative programs that have made a demonstrable impact to Queensland communities or have strengthened access education at UQ.
Community
Winner
Anthropology Museum Team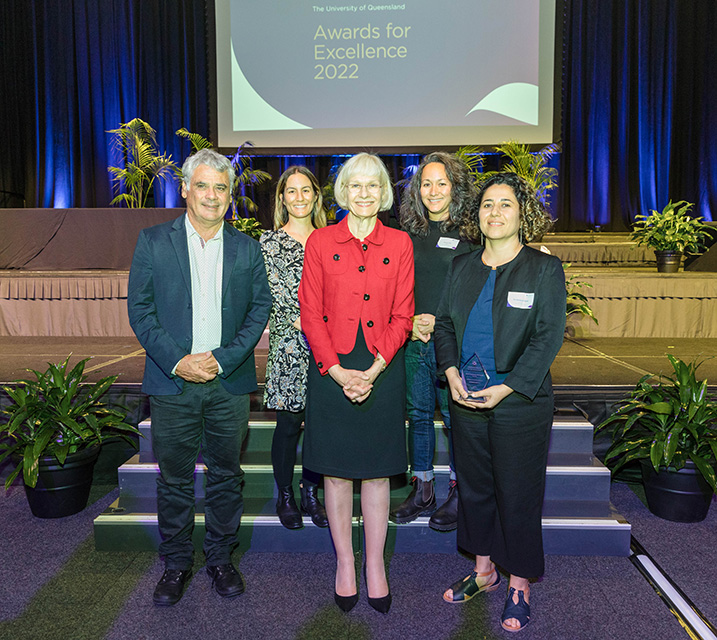 The UQ Anthropology Museum has an outstanding record of engagement with the community through its exhibition program. Between 2019 and 2022, the small team that support the museum worked with collaborators to produce the innovative and stunning exhibition Kirrenderri, Heart of the Channel Country. This exhibition revealed extraordinary stories from Southwestern Queensland, providing Mithaka perspectives, recent archaeological discoveries, historic and contemporary photographs and written accounts, and museum collection artefacts. A public research symposium provided stimulating discussions and the exhibition will tour venues across regional and remote Queensland in coming years.
Mr Michael Aird 
Miss Mandana Mapar
Ms Jane Willcock
Ms Camella Griffiths
Ms Kiri Chan
Commended
UQ Pro Bono Centre 
The UQ Pro Bono Centre is a nationally recognised leader in the development, promotion and provision of student pro bono legal work. Currently 540 UQ Law students have signed up to the Pro Bono Roster. In the last 12-months, the Centre has supported 50 partners in over 80 projects across the Community Legal Centre (CLC) sector, Charities or NFPs, the UQ Community, Courts and the Judiciary and Professional Associations, throughout Queensland and within the Indo-Pacific. The Pro Bono Centre inspires students to understand the value and importance of access to justice, providing organisations in the community legal sector with assistance.
Professor Tamara Walsh 
Ms Hannah Fannin
Ms Kirsten McRuvie
Nominated
Dr Marie Boden, Lecturer, School of Information Technology and Electrical Engineering
Marie is an Interaction Design researcher and educator in the School of Information Technology and Electrical Engineering. Her main research interest is in social robotics and design of technology to support teaching and learning.
Mr Jason Weigel, Research Officer, School of Information Technology and Electrical Engineering
Jason Weigel is the current Chair & Regional Director (Queensland) of GovHack Australia. GovHack is the largest open data hackathon in the southern hemisphere, and one of the largest in the world. In addition to his dedication to the GovHack community in Australia, Jason is also currently in the process of completing his PhD within the Human-Centred Computing discipline in the School of Information Technology and Electrical Engineering and is also employed as a Research Officer at UQ Centre for Energy and Data Innovation. 
Centre for Critical and Creative Writing
UQ's Centre for Critical and Creative Writing aims to connect The University with the national arts community. Across 2020-2021, they led three successful initiatives to bring scholars, alumni and artists into conversation with the public during a period when cultural initiatives were largely inaccessible. UQ Book Club (in conjunction with UQP) championed Australian literature within lively webinars with invited authors. Postcards from Future Queensland asked schoolchildren to imagine Covid-19 as a turning point to a better future. And their signature event, a digital symposium on adapting Australian novels, allowed scholars to debate new intellectual trends with the public and industry.
Associate Professor Stephen Carleton
Dr Helen Marshall
Ms Olivia Brown
Native American Indigenous Studies Association Conference
In May 2022 The Native American Indigenous Studies Association Conference Team delivered one of 8 Regional Gatherings that showcased world-leading Indigenous scholarship. Its success is evidenced via attendance from nearly 200 scholars, students, Elders and community members from across Queensland and around the world. The Team delivered Excellence in Community by advancing the intellectual vitality of Indigenous scholarship, and by strengthening relations with regional and remote Queensland communities, including Indigenous communities. By championing research excellence, and research and inclusivity, the work of this team also directly aligns with UQ Values.
Professor Tracey Bunda 
Mr Jason Curtis
Ms Cath Thompson
Mr Marc Barnbaum
Ms Vennetia Tzanis 
Ms Kate Sarri
Ms Arielle Henaway
Ms Rebecca Klein
P&F Sustainability Team
The P&F Sustainability Team has led a strong sense of community engagement in the university environment for several years. Core initiatives include Sustainability Events, the Green Office Program, Green Ambassadors Program, Green Fund and Training. The team is at the core of the development and implementation of the Sustainability Strategy 2021-2025 providing a clear platform that outlines the universities commitment and direction in Sustainability efforts. A strategy with a whole of community approach that aligns with the Global United Nations Sustainable Development Goals.
Ms Helena Malawkin 
Ms Christine McCallum
Ms Suzanne Davis
Mr Christian Dresing
Mr Warren Mortlock
Ms Carmel Ainsley
Ms Sophia Rutter
Miss Jasmine Palmer
UQ Ventures Discovery
The UQ Ventures Discovery program works with high schools across Queensland and globally to help foster entrepreneurial skills and mindsets in their students and communities. Discovery continues to grow and exceed expectations, having already engaged with 3,898 high schools students in 2022, from 3,277 students in 2021. Since 2019 the team have engaged with 10,000+ students from the Brisbane Metro area, regional Queensland and international high schools in India and Japan. Discovery is able to work with public and private schools from all socio-economic backgrounds, bridging the gap towards tertiary education and access to UQ to all areas of Queensland.
Mr Nimrod Klayman 
Ms Caitlin Boucher
Ms Olivia Adlard
Ms Jemma Short
Mr Tomas Piccinini
Mr Tyson Jennings
Ms Beth Lawrance
Ms Sally Dwyer
Ms Emily de la Pena
Innovation
Winner
Ms Emilyn Tan, Laboratory Manager and Quality Assurance, Protein Expression Facility
Applying the highest standards to achieve the greatest impact for researchers and students is the motivation driving Emilyn Tan's contributions as Laboratory and Quality Manager for the Protein Expression Facility (PEF). Her initiative and leadership of PEF's application for ISO 9001 Quality Management System has resulted in successful certification that will ensure researchers to PEF receive consistent, high-quality services with a focus on continuous improvement. Emilyn's detailed systems, procedures and documentation have become the benchmark for other organisations within the DVCRI portfolio to also apply for future ISO 9001 certification; delivering transferable workplace practices to improve UQ's effectiveness and efficiency. 
UQ MaaS Team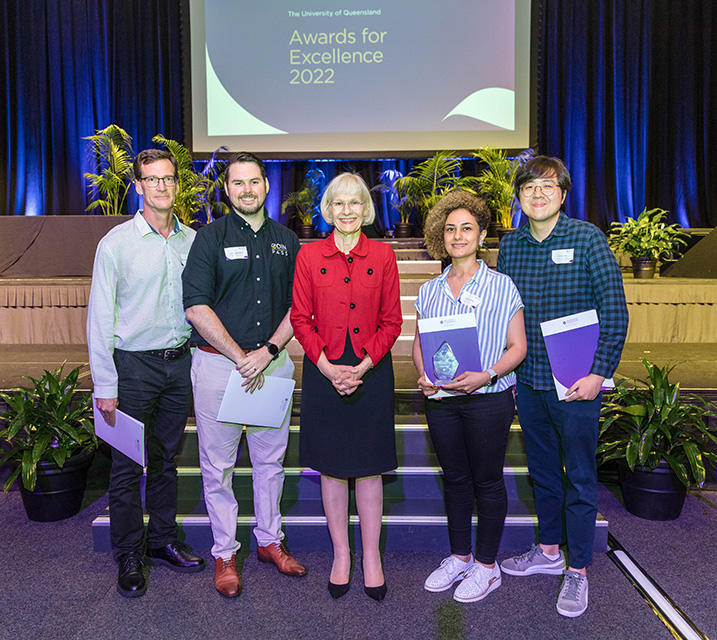 Mobility as a Service (MaaS) is an innovative concept that integrates public and private transport services through a common user interface. The UQ MaaS trial team developed a MaaS trial for UQ students and staff, referred to as ODIN PASS. ODIN PASS provides discounted transport fares to UQ students and staff creating an exceptional user experience and ultimately encouraging a shift towards more sustainable transport modes (e.g., public transport, micro-mobility, etc). ODIN PASS also increases active transport and sense of community, by offering e-scooters and e-bikes.
Dr Maisie Rahbar 
Professor Mark Hickman
Dr Jake Whitehead
Dr Kai Li Lim
Commended
RiPPLE Team
Using the UQ-developed RiPPLE platform, academics and students partner together to create pools of high-quality learning resources, which are used to recommend personalised content to students based on their mastery level. Since 2018, 25,000+ UQ students have had their learning experiences transformed as they co-created 80,000 resources which have been studied by their peers over 2.1 million times. With its unique approach to partnering and personalising the student experience and strong evidence that it improves learning outcomes, RiPPLE has been recognised as an exemplar in the field of educational technologies by leading international organisations such as EDUCAUSE and HolonIQ.
Associate Professor Hassan Khosravi 
Mr Nick Joseph 
Mr Jonathan Brazil
Mr Ali Darvishi
Mr Afnan Bashir
Mr Jack Stubbs
Nominated
Dr Marie Boden, Lecturer, School of Information Technology and Electrical Engineering 
In the academic world of Design Thinking Dr Marie Boden is continuously pushing the boundaries to how UQ students improve their sense of critical thinking and innovation. Hundreds of undergraduate and postgraduate students have taken Dr. Boden's course in Design Thinking and often it is their first ever experience with teamwork and individual creative thinking. This year she successfully implemented a whole new course part - Academic English - in collaboration with UQ College to improve academic English skills accross nationalities. It has successfully improved students results in the course and has been an innovative solution to improve future student outcomes. 
AI Internships Team
The UQ Artificial Intelligence (AI) Collaboratory Student Internships team, led by Dr Alina Bialkowski, and supported by Ms Sue Basu, created and delivered an outstanding program for UQ students interested in AI Research. The program provides an enriching experience to over 20 students every semester and helps build capacity and momentum for AI research at UQ, while raising interest and awareness of AI technologies and potential within the UQ student cohorts and wider community.
Dr Alina Bialkowski 
Mrs Sue Basu
EAIT International Engagement Team
The EAIT International team have developed a multi-faceted, innovative approach to international student recruitment, retention and engagement. For the past five years the team, led by Aleks Rakic and Angela Li, has focused on developing relationships with international universities in China and India, establishing articulation agreements to bring significant cohorts to UQ, and engaging with students both socially and academically (using problem-based, hands-on learning) prior to their arrival at UQ. These efforts are paying off well despite COVID, with 80% of EAIT's semester 2, 2022 international undergraduate acceptances (at 10 June) coming via these cohorts.
Ms Angela Li 
Professor Aleksandar Rakic
Dr Shaun Chen
Ms Melinda Knox
Ms Gladys Yong
Ms Penny Qi
Ms Rachel Crooks
Ms Gracie Jin
HaBS Research Team (2021/22)
The HaBS research team (2021/22) has been an exemplar for the successful implementation of innovative systems and practices to grow and support research. The innovations that the HaBS research team have co-developed and implemented have allowed the Faculty of Health and Behavioural Science to rapidly and successfully pivot to new opportunities and challenges, that were a consequence of recent major changes in the landscape of health and medical research funding. The implementation of these innovations has been seamlessly integrated with and have value added to initiatives from the Research Office, the Office of Research Strategy, Planning and Performance and the Faculty of Medicine.
Ms Sharon Doyle 
Ms Alisa Lindfield-Pratt
Ms Sandrine Kingston-Ducrot
Ms Marion Carrett
Mr John Bertram
Ms Naomi Cooke
Dr Amelia Peters
Ms Brianne Mackinnon
Ms Bridget Moore
Dr Bec Jenkinson
HERA Team
The Health Research Accelerator (HERA) 2.0 Vice Chancellor's strategic initiative is a $50million program dedicated to grow UQ's capability to address pressing health and medical research challenges. The HERA team implemented an innovative and rigorous framework to assess applications that meet this challenge meaningfully. The HERA team evaluated 54 submissions, identified and supported seven programs and are continuing supporting successful bids through the onboarding process. The innovative approach, with incredible diplomacy, provided new ways of transdisciplinary work across UQ that is the first of its kind.
Dr Madonna Devaney 
Professor Geoff McColl
Dr Jodi Clyde-Smith
International Marketing and Communication Team
In the competitive landscape of international student recruitment, marketing campaigns that engage prospective students to improve their experiences with UQ are critical. The International Made Offer Campaign (IMOC) is an "always on" email campaign that has been designed to support and enhance UQ's international prospective student conversion goals. Since early 2021, the IMC Team and UQ Engage project have worked on the development of this campaign with the shared objective to create a campaign that leverages the full capabilities of the new UQ Engage platform and features personalised content to influence and inform prospective students with offers to choose UQ.
Mrs Loretta Porche 
Miss Adriana Velez
Mrs Colleen Stillman-Cheng
Miss Winky Lau
Mrs Katie Gemzik
Ms Lara Murray
Mr David Pollitt
Miss Hannah Paterson
ITaLI UQx Team
The UQx team are indefatigable ambassadors for UQ teachers, researchers and community. With a flair for identifying opportunities and brokering productive partnerships, since 2013 they have supported UQ academics to produce over 55 edX courses, reaching over 4.3 million learners across 238 countries. Their innovative approach to learning design results in UQ being one of the top twelve overall international MOOC providers, running one of the top-three best MOOCs of all time, being awarded the 2018 global edX prize, developing 20 bespoke digital learning technologies and pioneering experiences such as MicroMasters, Professional Certificates and repurposing core curriculum for mass audiences. 
Dr Neville Smith 
Mr Liam Stewart
Mrs Stella Winn
Mr Gavin Keir
Ms Loren Recchi-Bannah
Ben Cossalter
Low Harm Hedonism Initiative
Through the in-house production of their research video abstracts, the Low Harm Hedonism Initiative team have implemented an efficient and innovative method of communicating social science findings to the online research community. By reaching a wider audience, the team increase the likelihood that end-users will adopt their environmentally sustainable interventions and amplify the real-world impact of UQ's research. The team exceed normal expectations because although research video abstracts can be very effective, staff and students are not currently required to create them. The team undertake this activity out of enthusiasm and passion for the effective communication of their research.
Professor Sara Dolnicar 
Professor Bob McKercher
Dr Ya-Yen Sun
Dr Danyelle Greene
Dr Sabina Albrecht
Ms Dorine von Briel
Mr Oscar Zhu
Ms Sarah MacInnes
Ms Csilla Demeter
Ms Jenna Farmer
Org Unit Intranet Team within the Digital Environment/my.UQ Program
The Org Unit Intranet Team within the Digital Environment/my.UQ Program team have developed the UQ org unit intranet site template. It is a contemporary design which provides a clean uncluttered modern intranet for UQ organisational units. This template provides a standard and governance for the development of intranets across the university, which will ensure consistency. A number of technical challenges were discovered and overcome in developing within the M365 framework. As part of this initiative a demo site was created and a training module that units can use in developing their intranet solution. 
Ms Gina Paterson 
Ms Leigh Brewster 
Mr Amit Dhania
Mr Nathan Millington
Mr Christopher Brookhouse
Ms Kim Taylor
Mr John Reid
Mr Mike Chu
TCSI (Tertiary Collection of Student Information) Project
The TCSI team has worked exemplarily since 2019 to deliver a complex project to ensure UQ continues to satisfy its legislative requirements. Besides meeting compliance, they streamlined UQ's student eco-systems and transformed our reporting process. They demonstrated high-level expertise with the implementation of several upgrades and the adoption of UQ's enhancements by other institutions. They collaborated to deliver successful outcomes enabling DESE and Service Australia to better support our students. This was despite many requirements specified or altered very late and significant technical obstacles experienced at DESE's end. UQ progressed to real-time reporting well before many other providers in the sector.
Miss Suzanna Wong 
Miss Star Blessyng
Mr Owen Van Itallie
Ms Saba Ghouru
Miss Kathleen McDonnell
Ms Jessica Wang
Venoms to drugs: saving hearts and minds
Heart attack and stroke account for 27% of global mortality, yet there are no drugs available to prevent the damage they cause to the heart and brain. In a major scientific breakthrough, the team developed a drug from the venom of the K'gari funnel-web spider that prevents the tissue damage caused by heart attack and stroke, and preserves the integrity of donor hearts destined for organ transplant. The team's seminal work led them to found Infensa Bioscience, a UQ spin-out company that recently completed an oversubscribed initial funding round of $23 million, one of the largest in Australian biotech history.
Professor Glenn King 
Associate Professor Nathan Palpant
Service
Winner
Dr Hasan Hasan, Project Manager – Building Transition, School of Chemical Engineering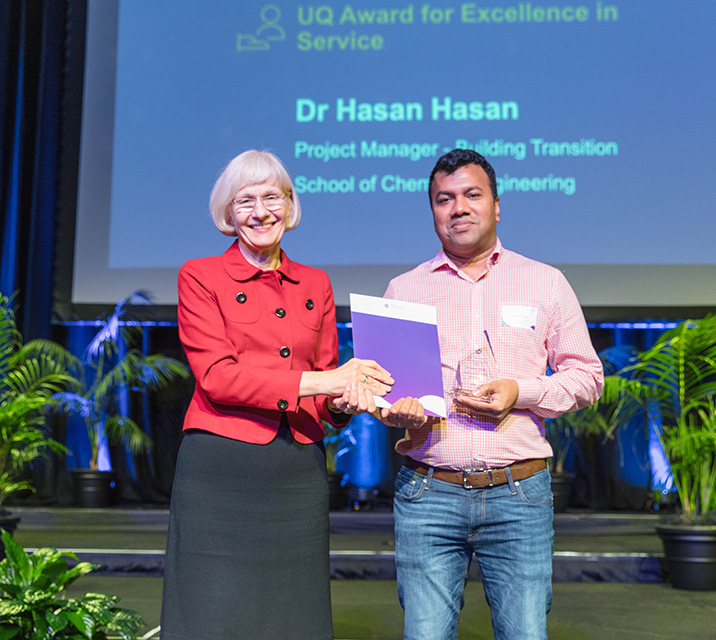 Dr Hasan Hasan has provided outstanding service to staff and students of the School of Chemical Engineering as we moved into the Andrew N. Liveris building. He has demonstrated a wide range of technical capabilities, project management, and communication skills to complete a really difficult job. Hasan has been the key link between the School, UQ P&F, and builders and contractors. Hasan's attention to detail, and persistence, have saved UQ significant sums in costs when procuring new research and teaching equipment and negotiating with builders about defects.
Commended
Dr Trish Murray, Senior Manager, Research Partnerships and Development, Faculty of Medicine
Dr Murray has provided unwavering service to the Faculty of Medicine Research Partnerships team as well as the researchers and Faculty she supports. Dr Murray is always willing to understand the problems and find solutions for the most difficult of issues faced by the Faculty and does so with enthusiasm and compassion. Dr Murray's adherence to the UQ PPLs while navigating the research and partnerships that need to happen is a credit to her creativity and integrity.
Mr Dony Rodriguez, Student Support and Wellness Officer, T.C. Beirne School of Law
Dony always goes over and above to provide outstanding service for not only students within the School of Law but also providing significant positive contributions to his colleagues across the wider BEL team. He consistently provides outstanding and exceptional quality of service to both students and staff, without drawing particular attention to himself, and contributes significantly to the professional standing and reputation of the UQ Law School and wider UQ community.
HMNS Professional Staff Team
On February 17, a fire in the biochemistry laboratory of the School of Human Movement and Nutrition Sciences (HMNS) caused significant damage, threatened expensive equipment and irreplaceable research samples, and disrupted multiple research projects. Just over a week later, the 2022 Brisbane River flood saw floodwaters inundate our building, again threatening teaching and research facilities. The HMNS professional staff not only rose to these occasions, but went above-and-beyond all reasonable expectations to ensure the safety and continued operational capacity of the School. All team members made significant personal sacrifices to ensure uninterrupted provision of exceptional staff and student experiences.
Mr Dean Short 
Mr Gary Wilson
Ms Dimity Glasby-Shaw
Ms Heather Farlow
Ms Jessica Sinclair
Mr Rick Lambe
Patina at Alumni Court
The Patina at Alumni Court Team have done an exceptional job to provide outstanding service to staff, students, alumni and the St Lucia Community.
Mr David Lee 
Mr Brian Roberts
Ms Sookhyun Kim
Ms Jeoung Kim
Mr Gerson Andres Higuera Bernal
Mr Zhengyan Shi
Ms Ngan Pho
SOE Casual Academic Liaison Officers Team
Jodie Miller and Stephanie MacMahon are sharing the inaugural service role of Casual Academic Liaison Officer in the SOE. We instituted this role because of the large number of casual course coordinators we employ. Besides being the primary contact persons for our casual academics, Jodie and Steph provide workshops to acclimate casual academics to the School, role expectations, PPLs, etc. and maintain a Blackboard site with information, FAQs, and a discussion board. This has linked our casuals with our academic community and assisted with their transition to the University, improving staff and, thus, student experiences.
Dr Jodie Miller 
Dr Stephanie MacMahon
Nominated
Associate Professor Stefanie Becker, Associate Professor, School of Psychology
Associate Professor Stefanie Becker, has marshalled her expertise, experience, and network to develop an inclusive infrastructure for training and collaboration among staff and students to facilitate access to electroencephalography (EEG) and eye-tracking equipment and techniques. Since 2008, Stefanie has organized three shared eye tracking labs; individually trained over 100 students; hosted international experts who contributed to this training. This benefits labs across UQ and Brisbane, from clinical and developmental psychology to linguistics and human movement sciences. Recently, Stefanie expanded her impact, establishing and overseeing the Brisbane Experimental Psychologists group which links students and staff from UQ, QUT and Griffith university.
Ms Emma Caird, Project Manager, School of Health and Rehabilitation Sciences
Ms Emma Caird led the development and coordination of the launch event for the UQ Queensland Aphasia Research Centre. This event provided a range of exceptional opportunities to showcase UQ research to key partners including industry, consumers, and philanthropists. The event attracted significant media attention (reach of 9.7 million people, 65 media items including ABC national coverage and Channel 10 News). The impact of the launch included increased awareness of aphasia, increased community engagement, and strengthening of partnerships between UQ, industry and philanthropy.
Professor Victor Callan, Professor in Management and Leadership, UQ Business School
For many years Professor Victor Callan AM has served the BEL Faculty in four overlapping and significant roles: as Academic Dean/Head, UQ School of Management; then Management Cluster Leader supporting the transition of all staff into the newly formed UQ Business School (UQBS); next as UQBS Director of Research building further its research, industry engagement and PhD programs; and then serving as the BEL Faculty Associate Dean (Research). Throughout this time, and continuing today, Victor provides outstanding leadership that builds cultures of academic excellence, based on his personal integrity, trust building and support for intellectual generosity in teaching and research.
Ms Sally Clark, Research Assistant, School of Psychology
As manager of the School of Psychology's Early Cognitive Development Centre (ECDC), Sally Clark provides an exceptional service to UQ students and staff by maintaining an organised, well-resourced, family-friendly child development lab. She serves the community and enhances UQ's reputation by creating an ECDC environment where parents trust that their children will be safe, that they will have fun, and they will be kept 'in the loop' about everything related to their research participation experience. Through the COVID pandemic, Sally's efforts ensured that the Centre's research productivity, student training and community reputation were sustained and even enhanced.
Prof David Cliff, Professorial Research Fellow, Sustainable Minerals Institute
Professor David Cliff is a long-time member of the UQ community and an integral part of the Minerals Industry Safety and Health Centre (MISHC). He has a long and distinguished career dedicated to health and safety in the mining industry. David has been active in providing education, training and advice on OHS issues to numerous countries and has provided support to government agencies as they struggle to cope with the demands of rapidly expanding minerals extraction industries. He has served as advisor for numerous higher degree students through his career and provided guidance to the next generation of research professionals.
Dr Meredith Downes, Faculty Research Manager, Faculty of Business, Economics and Law
Dr Meredith Downes has made a significant contribution to outcomes for researchers in the Faculty of Business, Economics and Law since commencing as Faculty Research Manager. She has introduced a range of initiatives and process improvements, which has led to important improvements in research support, funding outcomes and access to information and opportunities for researchers across all schools and academic levels. Meredith provides excellent service in a professional and prompt manner, which has elicited support for her nomination from across the faculty.
Ms Kim Henville, Manager, Learning Design, Engineering, Architecture and Information Technology
Kim Henville's service enables teaching excellence for many academics in EAIT faculty. In addition to subject matter expertise and good pedagogy and curriculum design, excellence in teaching requires the use of a variety of technologies. Kim provides exceptional service in connecting academics to the right tools to enhance learning. Kim has a deep understanding of what constitutes good education and a breadth of knowledge on current teaching tools, and brings a respectful and inclusive approach to helping individual academics craft creative and effective solutions to their teaching needs. She makes it easy for us to be great teachers!
Ms Lynette Hilly, Veterinary Nurse - Equine, Nurse Coordination Team (VET School)
Lynette has been nominated to recognise her outstanding contribution to the UQ Equine Specialist Hospital during the two recent flood events.
Mr Shane Jackson, Team Leader, Future Student Contact Centre, Future Students Recruitment
To nominate Shane Jackson, team leader of the Future Students Contact Centre for his exceptional customer services and mentoring to his team. Shane has been leading the FSCC team going through numerous challenges including staff change, extremely high volume of enquiries during Covid,and made an enormous contribution to ensure high standard customer services are maintained throughout the challenging time and transition. Shane is extremely knowledgeable, tireless, and always ready to offer help to both customers and to team members. He is a backbone of FSCC and role model for customer services.
Mrs Christine Kusher, Specialist Integration Business Analyst, ITS
As Senior Business Analyst (Business Process Digitisation and Automation Program) in ITS, Christine Kusher has successfully led the complex development work for the four Staff Disclosure tools which were launched to staff in 2020, and more recently, have undergone significant enhancements due to legislative changes. Christine has been the key liaison between the 'business' (across multiple Executive portfolios) and the 'developers' in ITS. Her technical expertise, deep knowledge of and engagement with the business, her exceptional client service and communication skills have translated into UQ realising a staff disclosure framework that is the exemplar across Go8 universities.
Miss Trinity McNicol, Business Analyst, ITS
Trinity has displayed excellence, initiative and innovation pioneering and leading work on the governance of personal data, data ethics, and upholding UQ's commitment to maintaining its social licence. In particular, the Enterprise Data Ethics Framework she developed has become foundational in how data is framed and handled in ITS. Albeit, all these projects show an exceptional achievement and performance, the sum of all these parts display the overarching excellences and outstanding contribution that Trinity has had at UQ. Trinity ought to be recognised for her ongoing efforts to pursue excellence and make UQ, and those around her, flourish.
Dr Ai Nguyen, Lab Manager, School of Earth and Environmental Sciences
Ai Nguyen has provided an excellent lab training and analytical service to UQ ECRs/HDRs and external clients since starting his technical role at CGMS in 2012 and later taking the lab manager role at CGMS's Environmental Geochemistry Laboratory (EGL) in 2020. For instance, during COVID lockdowns, Ai kept the lab fully-operational using remote access from home, allowing uninterrupted instrument monitoring, sample analysis, and data processing/reporting. His exceptional service has resulted in not only unprecedentedly high analytical revenue and a significant number of co-authored quality publications (~20) during the pandemic, but also helped UQ researchers/HDRs to win more external research funding.
Dr Susan Sullivan, Research Development Manager, UQ Diamantina Institute
As UQDI RDM, Dr Susan Sullivan provides strategic advice and detailed feedback for national and international applications, while implementing a new grant tracking system. She played a major role in the successful UQ-RIIS bid. Significantly, Susan took leadership in establishing a UQDI Consumer and Community Involvement initiative, successfully recruiting a Consumer Engagement Coordinator. She initiated a grant-specific CCI training for researchers, and the accompanying step-by-step guide was shared throughout the Faculty of Medicine. Dr Susan Sullivan's level of initiative, leadership, conscientiousness and excellence is remarkable and ensures an outstanding and exceptional quality of service for all UQDI research staff.
Ms Chantel Veldhoen, Manager, Academic Administration, Faculty of Science
Chantel Veldhoen, as PA2 Project Manager, undertook the administration and management of this complex process across 2020-21. To meet the requirements of the Program Architecture 2 program, the Faculty of Science undertook a review of all programs and courses within the Faculty. This involved reviewing more than 46 coursework programs to consolidate and standardise course list structures and program rules within the University's policies and procedures. She managed this program of work in conjunction with academic leaders in addition to managing governance of Faculty committees, academic administration requirements, and changes resulting from COVID variation.
Mr Alex Wilson, Senior Systems Programmer, ITS 
Alex Wilson has provided exceptional service to the Faculty of EAIT and the broader UQ community in his capacity as an IT professional. His contributions include the EAIT Remote Desktop Project (enabling seamless working/studying-from-home experiences for thousands of staff and research students, and tens of thousands of coursework students – during the pandemic and beyond), the EAIT Cybersecurity Improvement Program (focusing on strengthening security whilst maintaining usability), as well as significant assistance with UQ data handling and security policies (and others), and the development of practical undergraduate coursework components to directly educate students and future professionals.
Centre for Health Services Research - Research Support Team
The Centre for Health Services Research, Research Support Team consistently provide exceptional quality of assistance to the Centre. In a rapidly growing environment, their volume of work is always increasing, introducing many stakeholders with differing priorities and expectations. Without a complaint, the team deliver every time with extraordinary commitment to the University values, handling every interaction with grace and integrity. Their considered approach and can-do attitudes in pursuit of progress while ensuring the highest level of detail and care is enormously valued by our team. 
Dr Patricia Murray 
Dr Lauren Angel
Dr Casey Dodds
Mr Phil Smit
Digital Learning Uplift Team
Digital Learning Uplift (DLU) is a program of work that enhances the teaching and learning experience for both students and staff across UQ. It provides technical and pedagogical design, support, and professional development to teaching staff and delivering research-based innovations in educational design and student user experience. The program emerged following the rapid transition to online teaching during the COVID-19 pandemic and has experienced high demand for its services since inception in January 2021. The DLU program has provided expert guidance and support in meeting the changing needs of students, staff, and the University in delivering world class higher education.
Ms Belinda Benes 
Ms Linda MacDonald
Miss Aimee Sisley
Dr Kyra Woods
Dr Emma Somogyi
Mrs Stephanie David
Mrs Sandra Thwaites
Dr Linda Deer
Mrs Nina Bianco
Mrs Jacinta Lisec
Inaugural Early Career Life Sciences Symposium - Organising Committee
One of the many challenges for Early Career Researchers during the COVID-19 pandemic was the inability to engage face to face with their peers to present and discuss their research. To address this shortfall a group of like-minded Early Career Researchers, with the support of their Institutes and faculties developed and implemented the Inaugural Early Career Life Sciences Symposium.
Dr Bruce Wyse 
Dr Sabrina Burgener
Dr Megan Ross
Dr Anne Sawyer
Dr Raine Thomson
Dr Tatiane Yanes
Dr Jocelyn Widagdo
Dr Arun Balaji
ITEE Coursework Studies Team
The Coursework Studies Team – consisting of Karen Kinnear, Lyn Howells, Alexandra Peake, Ingrid Chan and Mark Bagdon – provide professional support for all staff (63 academics, ~350 tutors, 110 courses) and students (6000+ students in 2022) at the School of ITEE. The team have been a consistent source of support with extensive knowledge of UQ's rules and policies, supporting all aspects of teaching, assessment, and student enquiry within the school. They display remarkable generosity of spirit, always finding time to support our people. They should be highly commended for their perseverance, determination, and exceptional quality of service.
Mrs Karen Kinnear 
Ms Lyn Howells
Miss Ingrid Chan
Miss Alexandra Peake
Mr Mark Bagdon
Faculty of Science Electronics Workshop
The Electronics Workshop, within the Science Workshop, is a small team of people dedicated to consistently providing an outstanding level of service to the staff and students of the Faculty of Science and the broader UQ community. They provide advice and skilful repairs for the broad range of highly technical and specialised scientific equipment housed within the Faculty. The Electronics Workshop team employ ingenuity and creative thinking to ensure that both teaching and research at UQ can progress with as little disruption and financial burden as possible, all the while providing a quality work product.
Mr Michael Mayrow
Mr Tom Mason
Medical Research Future Fund (MRFF) Team
This team consistently provides positive support for our researchers' funding efforts though professional and prompt replies, despite challenging queries and requests. They frequently take initiative to seek out complete responses to urgent requests, following through all questions, and their advice is consistent and always transparent as to how the advice was obtained. Their contributions and feedback are always thorough and exceptionally helpful.
DrJodi Clyde-Smith 
Dr James Reid
Dr Serena Ekman
Mr Bernard Llanos
Dr Emma Livingstone
Dr Lucy Buzacott
Onshore International Team
Despite the challenging COVID time, the onshore international team have worked hard to achieved the international student targets over the past semesters and maintained UQ's market share (onshore international) in Australia and China. In addition, the team have also taken on additional work to manage the China market for six months due to staffing shortage within the team and delivered positive results for UQ. This positive results have been achieved through their outstanding services to prospective students and international agents.
Mr Tony Tong 
Ms Angela Huang
RASSS
Throughout the challenges of 2021 the Research and Statistical Support Services (RASSS) & Global Substance Use and Mental Health (GSUMH) teams demonstrated their commitment to research excellence.In just a 4-year span, the RASSS team has made their mark on the Centre for Health Services Research within the Faculty of Medicine with members being recognised with multiple academic awards.Within their 4 full time staff members, 2 have been recognised with awards.Their staff have been a part of 2 successful HERA Programs SMART Initiative and ULTRA (UQ Clinical Trials) and provide invaluable assistance to more than 300 FoM staff, clinicians, and students.
Associate Professor Jason Ferris 
Mr Mark Chatfield
Dr Andrew Jones
Mr Mark Hoffmann
Dr Cheneal Puljević
Dr Elizabeth Ryan
Ms Veronika Schreiber
Mr Callum MacFarlane
Ms Steffi Cook
Mr Tom Strating
Science Contracts
The Science Contracts team faced a huge volume of incoming research contracts which coincided with the departure of several senior staff. They pooled their resources and ploughed through the crisis with camaraderie and dedication to reseach partnerships.
Dr Jodi Li 
Ms Sarah Wainwright
Ms Rachel Axon
Ms Andrea Edye
Ms Margaret Bernard
Ms Cristy Sun
Ms Dani Barry
Ms Sharon Hinton
ScienceLink
ScienceLink is the first online mentoring program developed at UQ specifically for academic staff. It supports the professional and personal development of our early-mid career academics in a way that is relevant and meaningful to them. ScienceLink was developed in response to calls from EMCAs for increased mentoring. The ScienceLink team took a highly collaborative approach to create a flexible career mentoring program that connects EMCAs with senior academics. The mentoring program has a web-based platform to connect mentors and mentees, provides supportive resources, and is underpinned by a strong Mentor Training package.
Professor Steve Chenoweth 
Dr Rochelle Soo
Dr Rachel Stephenson
Dr Wendy Goodwin
Ms Carla North
Mrs Breeann Silvester
Professor Jonathan Corcoran
Dr Elham Assadi Soumeh
Dr April Hastwell
Dr Shweta Singh
Dr Francois Barbier
Dr Anne Sawyer
Dr Dorina Pojani
Dr Teresa Ubide Garralda
Dr Bradd Witt
Dr Itia Favre-Bulle
Dr Swaid Abdullah
Vaccination - Cross Institutional Team
The Team came together in the fight against the spread of COVID-19, contributing to our campus safety in a coordinated cross organisational effort. Overcoming multiple hurdles this team operationalised the Student Vaccination Policy, providing advice and input into the design/ build of the self declaration vaccination system, delivering the policy into action. This included the provision of advice and guidance to students and staff on the options for students who were not vaccinated, targeted communications to student cohorts, support and counselling to assist students decision making, daily monitoring and auditing of compliance declarations, referrals and management of changes to enrolment.
Ms Andrea Strachan 
Ms Helen Morahan
Ms Barbara Sheahan
Ms Mina Singh
Ms Ashleigh Williamson
Ms Catherine Fitzgerald
Ms Noor Yousef
Ms Lily Taht-Smith
Ms Shelby Craig
Ms Sasha Grandin
Reconciliation
Winner
Library Aboriginal and Torres Strait Islander Initiatives Team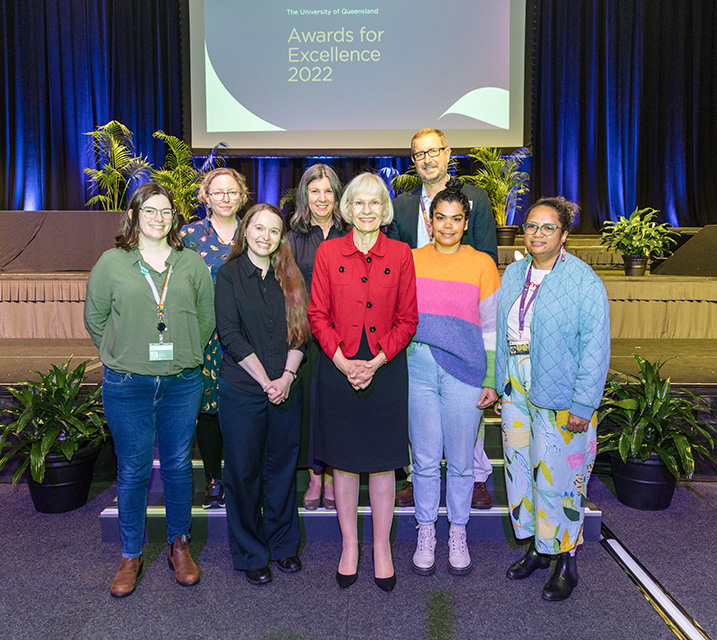 Since 2020, the work on the Library RAP Project and Initiatives delivered by the cross-Library team has been exceptional. Their overarching aim is ongoing organisational change. Specific initiatives include community engagement with Fryer Library, theses audit to add cultural advisory statements, development of a guide to learning resources to support Indigenising the Curriculum, adding metadata to acknowledge Indigenous contributors, consideration of the UQ Aboriginal and Torres Strait Islander Design Principles in the Library Master Plan, development of a referencing guide to acknowledge Indigenous knowledges. Their work has reach across the University and impact extends beyond UQ across Queensland and nationally.
Ms Kathleen Smeaton 
Ms Mia Strasek-Barker
Mr Simon Farley
Ms Tanya Ziebell
Ms Flic French
Ms Dulcie Stewart
Mr Stephen Wilcox
Ms Stacey van Groll
Ms Angela Hannan
Ms Elizabeth Alvey
Commended
Dr Steven Salisbury, Associate Professor, School of Biological Sciences
For over a decade, Steve Salisbury has partnered with First Nations communities in the Kimberley to better understand the scientific and cultural significance of the region's natural heritage. His work has highlighted the benefits of knowledge sharing on equal terms and how meaningful partnerships with First Nations peoples can provide exciting new avenues for research and teaching. He is now overseeing the implementation of teaching practices that ethically embed First Nations perspectives within parts of the science curriculum. His work is inspiring staff and students to explore ways to decolonise science and, in the process, create new pathways for reconciliation. 
BEL RAP Implementation Group
Led by a group of committed Indigenous and non-Indigenous staff, the BEL implementation plan for the UQ RAP signals a genuine commitment and intent to achieve meaningful progress towards reconciliation. The initiatives seek to strengthen awareness and appreciation of Aboriginal and Torres Strait Islander cultures and histories, to strengthen opportunities for Aboriginal and Torres Strait Islander peoples through enhancing access to education and employment, and to build meaningful engagement and partnership to support and empower Indigenous businesses and community groups.
Dr Sharlene Leroy-Dyer 
Ms Bronwyn Diffey
Professor Tyler Okimoto
Professor Lisa Ruhanen
Professor Daniel Zizzo
Professor Rodney Strachan
Ms Natasha Bromilow
Nominated
The Reconciliation Garden - Herston Campus
The Reconciliation Garden located on the Herston campus is a living contribution to UQ's Reconciliation Action Plan. The Garden was designed and built with respectful relationships with Aboriginal and Torres Strait Islanders at the centre. Guided generously by Yuggera Traditional Custodian Gaja Kerry Charlton and Elder Carmel Schlege, the UQ team comes from the School of Public Health, Property and Facilities, and the Office of the Pro-Vice Chancellor (Indigenous Engagement). The Reconciliation Garden has attracted national media, is embedded in UQ curricula, and is the site for key events (including launching UQ's National Reconciliation Week and visits from local schools).
Dr Preetha Thomas 
Dr Britta Wigginton
Mr Francis Nona
Mr Chris Shannon
Mr Brad Mortimer
Diversity and inclusion
Winner
Dr Dino Willox, Director Student Employability, Student Affairs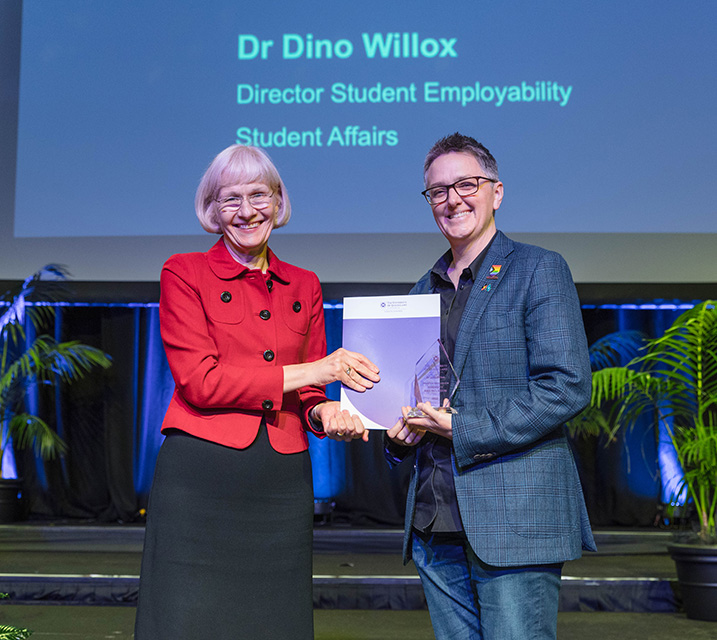 Under the leadership of Dr Dino Willox as chair of the Ally Action Committee, UQ has been recognised for the first time as a Gold Employer in the Australian Workplace Equality Index at the 2022 Australian LGBTQ+ Inclusion Awards. UQ scored 180 out of a possible 200 points, placing it in the top 20 organisations across Australia, and as the only university in Queensland to receive a Gold award. Under Dino's leadership the Ally Network applies an intersectional lens to all activities. Dino is an exceptional role model for LGBTQIA+ inclusion, not just at UQ, but nationally.
Commended
Dr Victor Gallegos Rejas, Casual Research Assistant and HDR Scholar
Not only is Victor's research work helping diverse population groups access healthcare, but he shares that same passion for equity and inclusion with his colleagues everyday. Victor started multiple workplace initiatives promoting these values. The events he leads are looked forward to and have created a sense of community among staff and students in the Centre for Online Health. For example, he volunteers Thursday lunch breaks to run well-attended Spanish lessons for co-workers, free of charge. He also started a monthly cultural potluck lunch, coordinating staff and students to bring dishes representing their heritage.
Nominated
Professor Sara Dolnicar, ARC Australian Laureate Fellow
Professor Sara Dolnicar is a champion of women in academia. She embodies UQ's value of respect and inclusivity in all her endeavours, including supporting women academics in her team who juggle research with family life. Her recent publication, a book titled 'Women's Voices in Tourism Research', represents a collective international mentoring platform for women in academia and stands as a testament to the dedication Sara has to the area of gender diversity. Such initiatives provide inspiration for women early career researchers and boost UQ's reputation for diversity in the wider community.
Dr Jean McBain, Senior Manager, Research Strategy & Policy, Research Strategy, Planning & Performance
Throughout her time at UQ, most recently in her role as Research Strategy Officer, Dr Jean McBain has demonstrated an exemplary commitment to inclusion and diversity at UQ in helping to drive initiatives that embed diversity. She is dedicated to using inclusive practices when coordinating external and internal research initiatives, enhancing the reputation of UQ in regard to equity, diversity and inclusion in the wider community, locally and nationally. Jean leads by example in promoting and demonstrating inclusive and supportive behaviours in the workplace, fostering a culture of inclusion in the Research & Innovation portfolio.
Mrs Leonie Meyn, Accessibility and Learning Support Assistant Manager, UQ Library
Since starting in April 2021, Leonie has undertaken a review of our Library services and spaces for students with disabilities, as well as scoping what technology is available to support the diverse needs of our students. Her work has improved and streamlined services for our students, particularly in relation to access to library resources. For example, she has organised UQ access to SenusAccess, which allows users to convert files into alternative formats automatically reducing wait times. Leonie has also worked closely with units across UQ to continue improving accessibility in physical and digital spaces.
Dr Brydon Wang, Lecturer, School of Architecture
Dr Brydon Wang has significantly raised the profile of UQ in Diversity and Inclusion. He brought together staff, students, alumni and community stakeholders to discuss resilience and mental health in LGBTIAQ+ advocates. He fund-raised and brought in former High Court Justice Michael Kirby to raise awareness of LGBTIQ+ diversity and inclusion in the law. Brydon met with PM Anthony Albanese to advocate for greater parental support and affordable childcare for working parents and LGBTIQ families. He brings the UQ values of Creativity, Respect and Inclusivity to the classroom, with his architecture students researching and designing flood-resilient floating Indigenous cultural spaces.
Ally Action Committee
Through hard work and dedication of the AAC, UQ has, for the first time, been awarded a Gold Employer in the Australian Workplace Equality Index. UQ scored 180 out of a possible 200 points, placing it in the top 20 organisations in Australia for our work on LGBTQIA+ inclusion in 2021.
Dr Dino Willox 
Ms Felicity French
Professor Ben Burton
Ms Alisa Pratt
Ms Tanya Lutvey
Miss Bec Archer
Dr Tara Roberson
Dr Simone Blomberg
Dr Karin Sellberg
Ms Celina Campas
Dr Lisa Ottenhaus
Mr Roy Castorina
Elias Blanch
Hailey Rufus
Mental and physical health, safety and wellness
Winner
Mrs Jennie Trinder, Deputy Director, Health, Safety and Wellness, Health, Safety and Wellness Division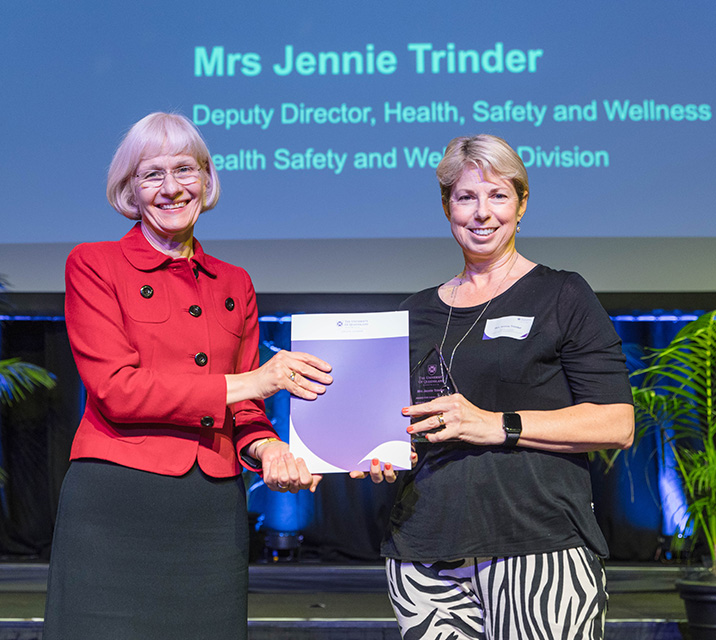 The development of the UQ COVID-19 vaccination procedure, including the establishment and review of the related risk assessment in late 2021 and early 2022, was a significant piece of work that required a large degree of organisational coordination and engagement. The result ensured a considerable positive health impact, which resulted in the enhanced protection of the UQ community by lifting the vaccination rate of staff and students to above the prevailing community levels.
WERC Project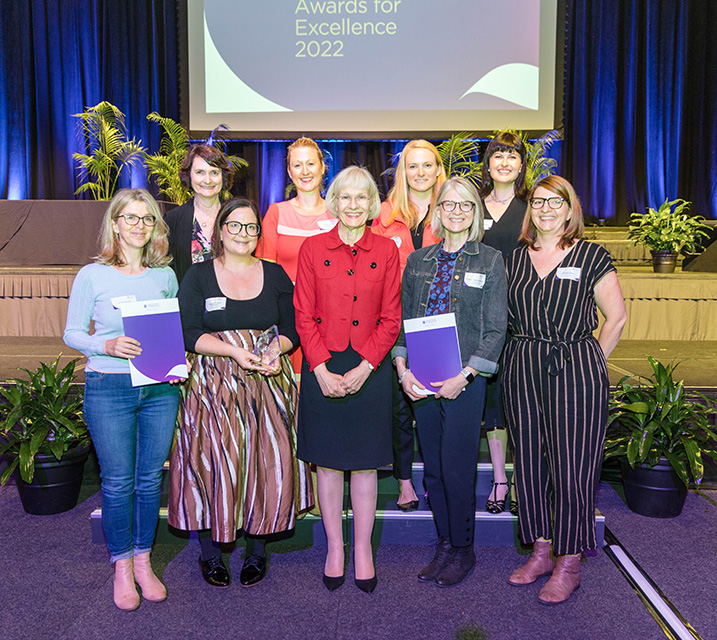 The HDR Well-being, Engagement and Research Culture (WERC) team provided an outstanding research study and an definitive survey for addressing the well-being of UQ's HDR students. Through wide collaboration, it provided a set of data and recommendations that is serving as the basis for enhanced awareness on the factors affecting student well-being at UQ. Significantly, it is providing the basis for supporting and accelerating the development of initiatives to enhance the quality of life, wellbeing and study experience of HDR candidates, which was not possible previously due to a lack of reliable data and knowledge in the Australian context.
Ms Belinda Bern 
Professor Annemaree Carroll
Dr Stacey Parker
Dr Marissa Edwards
Ms Tarli Young
Miss Antje Martins
Professor Catherine Haslam
Dr Sarah Bentley
Commended
Associate Professor Judith Greer, Principal Research Fellow, UQ Centre for Clinical Research 
Judith Greer is a dedicated research scientist and group leader within the UQCCR. Her career within UQ spans 30 years and has focussed upon diseases of the nervous system with a particular emphasis upon multiple sclerosis. She also acts as Director of Research Training for the Faculty of Medicine. She is a caring and compassionate individual who looks after the needs of numerous PhD students and is a fountain of knowledge for University policies and procedures. Her efforts have made an outstanding contribution towards creation of a positive workplace culture for students and staff within the Faculty of Medicine.
HSW COVID-19 Response Team
Throughout the 2 years of COVID-19, the HSW Safety Leads have worked extraordinary hard to not only keep up to date with the changes (sometimes these were a few times a day) but also, communicating these throughout their network, fielding constant questions, providing advice, assisting with contact tracing and physically changing the workspace to comply. Many worked through weekends and had long periods without any leave. They are a dedicated group and they deserve credit and recognition.
Ms Heather Pegg
Mr Chris Pye
Dr Simon Nevin
Mr Ryan Anderson
Mr Brian Logan
Dr Donna Easton
Dr Paul Lovelock
Mr Scott Lennon
Mr Nick Nacsa
Mr Ross Dixon
Dr Kelly Cosgrove
Mr Tyson Cronin
Mr Brad Ryan
Nominated
Ms Carolyn Zischke, Administration Officer, School of Information Technology and Electrical Engineering
Carolyn Zischke has over 20 years of professional administrative experience and has worked in a number of areas at the University of Queensland over the last four years. Prior to her current role as a Discipline Support Administrative Officer in the School of Information Technology and Electrical Engineering (ITEE), she worked in a central UQ unit (Academic Services Division) and a variety of Faculty/School administrative roles. Carolyn utilises her skills and experience for the benefit of the ITEE Cyber Security & Software Engineering and Human-Centred Computing discipline teams.
HaBS Faculty Respirator Fit Testing Team
The HaBS Faculty Respirator Fit Testing Team played a critical role coordinating a fit testing program for HaBS clinical placement students. When Queensland Health introduced a respirator fit test requirement with immediate effect due to rapidly rising community transmission of COVID-19, this group of dedicated staff quickly formed a high-functioning team and arranged all the necessary steps to ensure our students were able to commence or continue scheduled placements, and in some cases resume placements that were paused at the direction of the placement provider. So far this year, over 2200 HaBS students have benefited from this team's quick response.
Mr Brian Logan 
Dr Cindy Tan
Mr Shane Casson
Dr Dion Scott
Ms Amelia Stuckey
Ms Sarah Dahl
Ms Meagan Crabb
SEES Mental Health Working Group
The engagement and initiatives of the School of Environmental Sciences' Mental Health Working Group to support the wellness of its staff and students and improve culture are recognised by their nomination for a team Award for Excellence in Mental and Physical Health, Safety & Wellness.
Professor Eve McDonald-Madden 
Dr Chris Roelfsema
Dr Chris O'Bryan
Dr Daniel Harris
Professor Jonathan Rhodes
Associate Professor Helen Bostock Lyman 
Mr Jordan Poitras
Associate Professor Michael Warne
Professor Stuart Phinn
Dr Robert Hoelzle
Dr Teresa Ubide Garralda
Dr Derya Guerer
UQ COVID-19 Vaccination Compliance Team
In December 2021, The University of Queensland (UQ) conducted a Risk Assessment of health and safety risks posed to workers, students and others by the SARS-CoV-2 virus (COVID-19) arising from the impending relaxation of Queensland border restrictions. To manage this risk to the UQ community from an increase in circulation of the virus, from 14 February 2022, staff, students (and certain others) attending UQ campuses, sites or facilities were required to be fully vaccinated against COVID-19 and to make a self-declaration about their vaccination status. An audit process had to be implemented to verify the accuracy of the self-declaration.
Ms Alison Thomson 
Ms Carolyn Spiertz
Ms Fiona Coulthard
Ms Denise Morgan
Mr Alexander Gray
Mr Alessandro Costa
Mr David Holmes
Ventilation monitoring project
The HSW Division commenced a ventilation monitoring program in late 2021 which is continuing into 2022. The program, supported by P&F, is part of the suite of UQ COVID-19 risk management controls. CO2 concentration is measured as an indicator of ventilation sufficiency. It's important to identify where ventilation may not be meeting the intended design standards so that steps can be taken to ensure good ventilation in indoor settings. The project consists of monitoring of hundreds of indoor spaces such as teaching laboratories, teaching areas, office spaces, refectories etc. Then, assessment occurs, rectification works and reporting of outcomes to users.
Dr Peter McGarry 
Mr Hazem Gouda
Vets for Life
Veterinary Science attracts high performing and motivated students who are highly focussed on being the best in their chosen career. The challenge is to provide a safe and supportive learning environment so they can achieve their potential and develop life skills to excel in professional life. The School has developed a student-focussed approach called 'Vets for Life' (VFL) to ensure that a diverse range of first year students are welcomed into the vet school family and provides a peer-support network throughout the 5-year program. The outcomes have been a low student attrition, a higher overall student satisfaction and greater resilience.
Professor Paul Mills 
Professor Malcolm Jones
Dr Frances Shapter
Ms Keely Sayer
Ms Niranjanah Rasanathan
Mrs Letitia Norton
Wellness Insights program
Wellness Insights is a facilitated session that has been developed for UQ business units that encourages staff to start thinking about their current level of wellbeing and how they might look to improve this. The session provides an opportunity for team members to gain a better understanding of their colleagues and for leaders to gain better insight into their teams in relation staff wellbeing matters. The Wellness Insights session includes a Wellbeing check-in, setting individual wellness goals, and explores workplace wellness preferences. Participants are encouraged to practice positive behaviours on an on going basis to assist with a more durable impact.
Ms Jacqui Dean 
Mr Luke Welch
Leadership
Winner
Associate Professor Paul Harpur, ARC Future Fellow, T.C. Beirne School of Law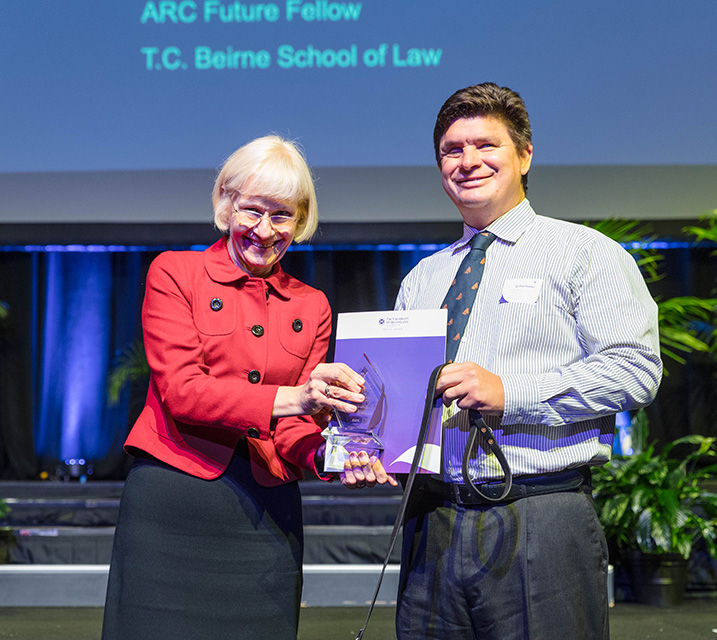 Dr Harpur uses exceptional leadership to create a positive culture of service in the University of Queensland. He exhibits leadership in advancing UQ and its community's reputation, operations, strategy and outcomes. As an affiliate to the Harvard Law School Project on Disability and as the 2022 Blind Australian of the Year, Dr Harpur's global reputation enables UQ to leverage his expertise to support students, staff and to produce research and innovation. Beyond diversity, Dr Harpur has a sustained leadership commitment including involvement on Academic Board since 2015 and contributing to major works and grass roots leadership.
Ms Caroline Williams, University Librarian, Office of the Deputy Vice-Chancellor (Academic)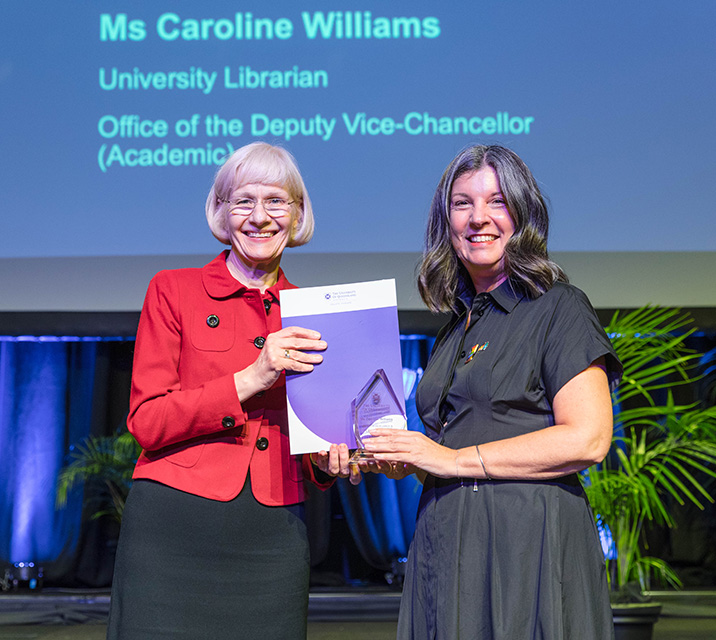 Caroline Williams is driving the UQ Library to move closer to the centre of University life both as a learning/research resource and to deliver a sense of belonging to students and the broader community. Central to student learning and support, Caroline continually seeks new and improved initiatives for driving purposeful innovation and change in alignment with UQ's strategy and values. Further to this, Caroline has remained agile in her leadership approach during the pandemic and initiated lateral responses that have addressed pedagogical and assessment shifts, increased demands for digital innovation and research services, and the reimagining of learning environments.
EMCR@UQCommittee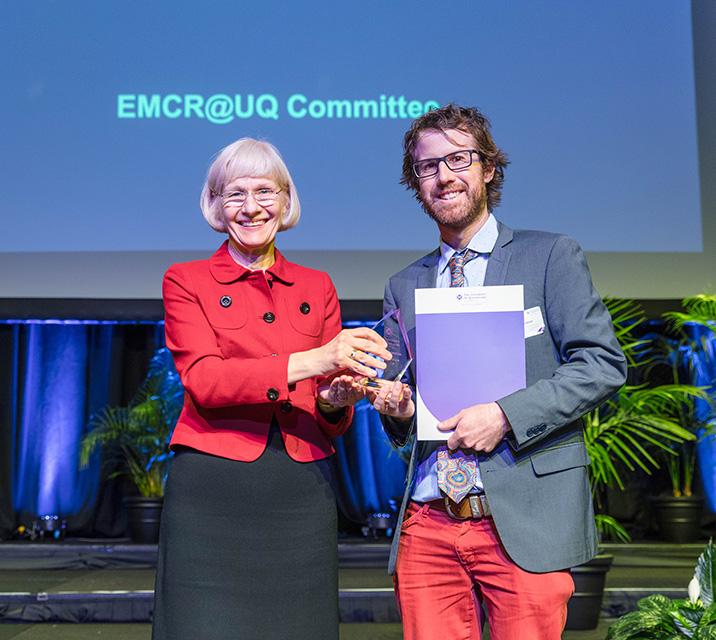 Early- and mid-career researchers (EMCRs; Levels A-C) constitute over 70% of UQ's academic research workforce. To generate positive impact within UQ's Strategic Plan (2018-2021), the university-wide EMCR committee (EMCR@UQ) organised a series of dialogues with Heads of Schools, Faculty Deans and Institute Directors, and across the broader EMCR community. This activity, supported by the DVCRI Office produced the "EMCR@UQ Roadmap 2019-2021" setting strategic priorities and actions. Thanks to continuing advocacy by EMCRs and widespread commitment to this plan by UQ Central and Organisational Units, significant outcomes have already been, and continue to be, delivered to benefit the UQ research community.
Dr Jake O'Brien 
Dr Kiah Smith 
Dr Jemma Venables
Dr Bronwyn Clark
Dr Christina Kulis
Dr Kate Power
Dr Rodrigo Suarez
Dr Michael Collins
Dr Mehmet Yildirimoglu
Dr Sjaan Gomersall
Commended
Dr Jodi-Clyde Smith, Executive Director, Research Office, Office of the Deputy Vice-Chancellor (Research and Innovation)
Dr Jodi Clyde-Smith's leadership has established UQ's Research Office as a strategic trailblazer in enabling the UQ research community to access traditional and emerging funding opportunities. Jodi has provided critical leadership in the design and delivery of internal funding scheme, which will allow UQ to address the most pressing research and innovation challenges of our time. Jodi's highly collaborative approach has supported a positive performance culture within the Research Office and facilitated the delivery of significant cross-institutional initiatives. Jodi enables a scale and intensity of research enterprise at UQ, supporting our mission to deliver for the public good through excellence. 
Ms Chantel Veldhoen, Manager, Academic Administration, Faculty of Science
Dr Jodi Clyde-Smith's leadership has established UQ's Research Office as a strategic trailblazer in enabling the UQ research community to access traditional and emerging funding opportunities. Jodi has provided critical leadership in the design and delivery of internal funding scheme, which will allow UQ to address the most pressing research and innovation challenges of our time. Jodi's highly collaborative approach has supported a positive performance culture within the Research Office and facilitated the delivery of significant cross-institutional initiatives. Jodi enables a scale and intensity of research enterprise at UQ, supporting our mission to deliver for the public good through excellence. 
Nominated
Ms Sarah Brown, Deputy Director, Research Strategy, Planning, and Performance, Pro-Vice-Chancellor (Researcher Development)
Sarah Brown has led the Research Performance Team and Research Operations Team to significant achievements, exemplifying integrity while also building a culture of inclusivity and excellence. Sarah inspires loyalty in her teams, in large part thanks to the environment of trust, creativity and courage that she has established. Initiatives led by Sarah and delivered in collaboration with her teams include: sector-leading tools for research performance analysis; development of new Research and Innovation strategies; delivery of major events such as Research and Innovation Week; and establishment of new cross-institutional communities of practice. 
Mr Jake Carroll, Chief Technology Officer, Research Computing Centre
Jake has been instrumental in growing a research computing community that spans across multiple institutes and schools at UQ. He has been fostering industry relationships and building a team to deliver higher quality research data storage and computing to UQ researchers. He has been the primary champion of the new "evergreen" approach for the new supercomputer which will bring ongoing iterative improvements to meet the growing data and throughput demands of UQ researchers.
Dr Michelle Dunn, Senior Manager, International Development, Global Partnerships
Dr Michelle Dunn leads ID's business development and engagement function. During a time of significant challenge and uncertainty, Michelle's leadership has ensured the successful and high-quality delivery of projects for external clients and contributed to UQ's strategic objective to become the go-to university for development expertise in the Indo-Pacific. Michelle's extraordinary leadership, strategic thinking and outstanding work ethic saw ID win multiple tenders in early 2022, successfully continue delivery of contracted projects and commence implementation of a new team structure to bring efficiency, effectiveness, opportunity and job satisfaction to team members.
Mr Fabby Ernesta, Chief Property Officer, Property and Facilities
Over the past few years, Fabby Ernesta has been critical in driving collaborative engagements for UQ's alumni and donor community throughout a wide range of infrastructure projects. Under Fabby's leadership, P&F have forged respectful engagements with donors and alumni to deliver number projects including Frank White Memorial Garden, Feeney Way, UQs Philanthropy Trail, Kev Carmody House, Cairngorm House, the Atrium at UQ's City Campus, Boyce Gardens, UQ Lakes and Amphitheatre renewal project, enhancements for the Alumni Friends Book Group at Longpocket, and more. Through genuine consultation and active listening, P&F have become a trusted partner for UQ's alumni and donor community.
Ms Danielle Harvey, Senior Team Leader, Engagement and Training, UQ Art Museum
Danielle Harvey has positioned UQ Art Museum as an Australian leader in Cultural Mediation research and training. Cultural Mediation is a practice that aims to remove unwelcoming barriers between UQ Art Museum and its visitors. It strives to empower visitor voices through mutual exchange with a Mediator who fosters peer-to-peer learning, negotiates ideas, and encourages visitors to share and question knowledge. Danielle mentors a team of 17 Mediators who are also UQ students from various disciplines. UQ Art Museum is the only Australian University Art Museum to practice Cultural Mediation. Danielle has developed a program centred on empathy, inclusion, peer-to-peer learning, and wellbeing. She is currently adapting the program for regional galleries around Australia.
Ms Karen Hendrickson, Senior Manager, Operations, Office of Deputy Vice-Chancellor (Research)
Karen's approach to leadership is based on respect, communication, and compassion. Due to her supportive leadership and people first management style, her staff are redefining their boundaries to create change. Just one of many examples, Karen's staff have led the coordination and management of a more dynamic Research and Innovation Week, showcasing incredible research and researchers across UQ. No projects would be as successful without Karen's willingness to share, build on ideas, to pitch in and go above and beyond has inspired the staff and people around her.
Mr Scott Lennon, Senior OHS & Wellness Manager, Property and Facilities
Scott Lennon is the epitome of a great UQ leader. He has identified critical gaps and addressed them by resourcing a key team to deliver better preventative safety outcomes across all P&F employees, UQ staff, contractors and the general community. Scott consistently promotes collaboration across P&F portfolios and leads with empathy. He understands his team members at a deep level and is always promoting growth and development for his team members. The P&F community regularly give positive feedback about dealing with Scott and he consistently wins P&F peer nominated recognition awards.
Ms Sandra McMullan, Director, Communication, Marketing and Communication
As the leader of UQ's central communication team, Sandra McMullan has made a meaningful and lasting impact on how UQ manages and responds to reputational and stakeholder engagement challenges. During the COVID 'era', Sandra worked tirelessly to support UQ's requirements during intense and uncertain periods. Her strategic nous and judgement have seen Sandra become a trusted advisor to many senior executives. She has helped effectively navigate a myriad of challenging reputational matters as well as transformed aspects of her team's performance that have resulted in a significantly improved profile and reputation for UQ. She represents the best of UQ's values.
Dr Jake O'Brien, NHMRC Emerging Leadership Fellow, Qld Alliance for Environmental Health Science
Dr Jake O'Brien ensures his HDR students are connected to at least one external advisor that aligns with the student's desired career trajectory. Additionally, it increases access to resources and embeds the student into a professional work environment, easing the transition from PhD to career. He encourages HDR's to travel and learn from collaborators nationally and internationally.
Professor Jonathan Rhodes, ARC Future Fellow, School of Earth and Environmental Sciences
Jonathan Rhodes without a doubt deserves the UQ award for excellence in leadership for his contribution as the exemplary leader of the Sustainable Landscapes Group, and his leadership within the Centre for Biodiversity and Conservation Science (CBCS), and the School of Earth and Environmental Sciences (SEES). He is an incredibly supportive mentor to all of his students and colleagues, and very much takes an active part in the research that they carry out. He always makes himself available, which instils enthusiasm within his lab. All of this results in UQ-driven scientifically robust outcomes from a diverse group of enthusiastic individuals.
Professor Shazia Sadiq, Professor of Computer Science, Information Technology and Electrical Engineering
Shazia Sadiq FTSE is a Professor of Computer Science at ITEE. Shazia has been a devoted lecturer for two decades, and an advocate for improving personalised learning and graduate outcomes. In 2012, she received an institutional award for teaching excellence and in 2016 she spearheaded the highly successful Master of Data Science program at UQ that is helping overcome skill shortages in Queensland for qualified data scientists. Shazia is also leading UQ's AI Collaboratory, bringing together the research strengths of UQ experts spanning across several areas to present a strong portfolio of fundamental knowledge critical for the future of AI.
Associate Professor Peter Sutton, Associate Professor, Information Technology and Electrical Engineering
A/Prof Peter Sutton is an outstanding leader and practitioner of Teaching and Learning at UQ. He is a computer engineer and computer scientist who has served in multiple teaching and learning leadership roles at UQ since mid-2005, including EAIT Associate Dean (Academic), Chair of the ITEE Teaching and Learning Committee, and currently as ITEE Deputy Head of School (Teaching and Learning) and Program Architecture 2 (PA2) Project Lead. 
Professor Janet Wiles, Professor, School of Information Technology and Electrical Engineering
Researchers mentored by Janet universally praise her ability to listen, understand their needs and shape the environment around them to ensure their best outcome is achieved. Since its inception in 2014, she has led the UQ Node of the ARC Centre Excellence for the Dynamics of Language and throughout this period has continued teaching and provided outstanding leadership of a large team of PhD students, postdocs and several professional staff. Janet's diligence is testament to her value as an outstanding leader in academia. Her intelligence and warmth further reinforce her standing as a great asset to UQ. 
Annual Performance and Development (APD) Team
The APD team has successfully led the development and deployment of a completely refreshed approach for how UQ undertakes annual appraisals, now known as the Annual Performance and Development (APD) process. A joint project between Human Resources and the P3 (People, Planning and Performance) team which commenced in 2019, the work undertaken by this team represents a significant shift for the University in terms of how we recognise the achievements and support the development of our staff. This team has demonstrated significant change leadership and led the implementation of policies, processes, and technology with a focus on embedding UQ values.
Mr Declan Hughes 
Miss Sarah Hannah
Ms Rebecka Vargas
Ms Melissa Figueroa
Professor Doune Macdonald
Professor Mark Blows
Ms Janey Saunders
Ms Amy Thams
International Admissions Management Team
The UQ International Admissions Management Team consistently demonstrated exceptional leadership. Over the past two and half years, the IA team has undergone a complete transformation. As the leaders of the IA, the Team demonstrated high quality leadership evidenced by the ability to think and work strategically, communicate and collaborate with influence, encourage personal growth and build team culture.The Covid-19 pandemic had a significant impact on the international student pipeline. IA team has been extremely successful in maintaining the University's international student enrolments during pandemic through the stronger leadership provided by the IA management team.
Ms Ping Khoo 
Mr Jae U Yun
Ms Mia Zhang
Ms Ulrike Paul
ITaLI Assessment Team
In the face of disruption, ITaLI's Assessment Team courageously and purposefully leads institutional change, drawing on evidence-based practices to enhance assessment and academic integrity at UQ. Desiring best assessment outcomes for all students, the Team's vision impacts UQ policies, translates decisions into practice, and advances digital and personalised assessment and feedback experiences to meet changing student and industry expectations. Through inter-disciplinary initiatives, the Team brings together teaching staff across the university to design inclusive and innovative assessment processes and solutions that not only puts UQ at the forefront of current practice but demonstrates leadership in assessment worldwide. 
Mr Dom McGrath 
Professor Christine Slade
Mr Peter Rutherford
Ms Shari Bowker
Ms Jacqui Lynagh
Mr Dale Hansen
Ms Kylie Tindale
Ms Ailsa Dickie
Dr Mair Underwood
Mr Chris Frost
Soils for Science
Soils for Science is a citizen science program encouraging the public to collect soil to find new medicines, particularly antibiotics. Since launching in March 2021, the Soils for Science team of academic and professional staff has received nearly 10,000 samples of soil from every state and territory in Australia, engaging with people who would not otherwise interact with UQ. The team has partnered with 7 organisations, connected with over 2500 people at community events, hired a Teacher-in-Residence to develop curriculum-aligned materials to further school engagement and generated philanthropic support to deliver the program, including a major gift.
Professor Rob Capon 
Dr Zeinab Khalil
Ms Caitlin Aust
Miss Jolynn Kiong
Mrs Sara-Jane Dean
Ms Kamyra Laurenson
Ms Shona Clayton
Dr Bruce Wyse
Ms Bronwyn Adams
Dr Jane Ilsley
UQP
University of Queensland Press (UQP) has established itself as a leading force amongst independent Australian publishers, winning the highly prestigious Australian Small Publisher of the Year Award in 2022 and 2021. As the first and only Queensland organisation to achieve this accolade for two years running, this award reflects UQP's outstanding achievement in contributing to the overall success of the Australian publishing industry. UQP is a distinctive branch of UQ that demonstrates excellence in promoting a diverse publishing program, innovative organisational initiatives, and is proudly renowned as a leading influential presence across cultural and publishing sectors within Australia and globally.
Mr Ben James 
Ms Madonna Duffy
Ms Aviva Tuffield
Ms Clair Hume
Ms Jacqueline Blanchard
Ms Louise Cornege
Ms Kirsty Wilson
Ms Hayley Tomlinson
Ms Cathy Vallance
Ms Margot Lloyd
Ms Felicity Dunning
Ms Kate Garaty
Ms Jean Smith
Ms Sally Wilson
Ms Yasmin Smith
Ms Madeline Byrne
Ms Denise Webb
Mr Jakeb Smith
Ms Louise McCall
UQ Ally Award
Winner
James Fowler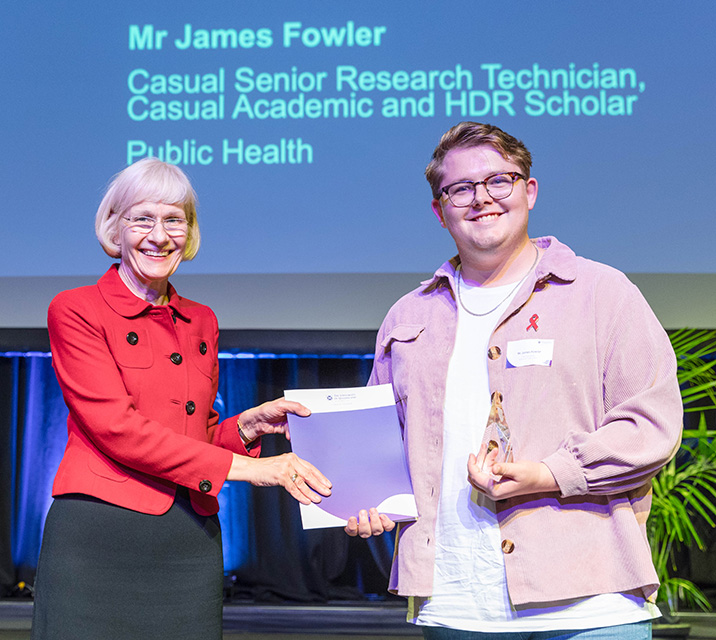 James has a commitment to community advocacy and creating a safer Australia, and UQ, for LGBTQIA+ people. James has implemented some of the first LGBTQIA+-focused curricula into the School of Psychology's Psychological Science undergraduate program. His PhD specifically focuses on the LGTBQIA+ co-design of an online, mental health program that will be implemented in LGBTQIA+-focused health services across Australia. James has also spread the importance of LGBTQIA+ affirming practices and awareness around the country, having been invited to speak at the Joint Australian Sexual Health and HIV Conference and Queensland Women's Health Forum about the needs of LGBTQIA+ folk to leaders in Australian healthcare.
Nominated
Flic French
Flic has always positively championed the UQ Ally initiative and makes a tremendous effort to help, teach and bring the LGBTQIA+ community together to create change. Alongside her role as co-Chair of the Ally Action Committee, since 2020 she has been an integral part of the facilitation group of the Ally Workshop and regularly speaks on the panels for the workshops that she isn't facilitating. She generously shares her valuable insights and personal experiences in order to make UQ a safer and more inclusive place for LGBTQIA+ staff and students. She is always approachable and willing to make time to help or advise her colleagues. With her extensive knowledge of the current issues faced by the LGBTQIA+ community, she is a key spokesperson and strives for positive changes at every opportunity.
Helen Chin
Helen is instrumental in UQ's efforts in fostering an inclusive environment for the LGBTIAQ+ community. Helen is a visible UQ Alley who always ensures everyone is welcome - from sharing opportunities to promoting key celebrations like Wear It Purple Day to the whole office. In an environment that is business-driven, Helen is an essential voice to support the LGBTIAQ+ community.
Marina Fortes
Marina has been a strong Ally in her workplace and has actively supported members of the LGBTQIA+ community to be their true selves at work. She always goes out of her way to ensure that everyone is accepted and continues to be an important voice who speaks up for the LGBTQIA+ community. 
Sandra Hall and Karen Perkins (joint nomination) 
Sandra and Karen have jointly established and supported the EAIT Ally Network over the past 18 months. Together they have significantly grown the number of EAIT staff who are UQ ALLY trained and brought these individuals together as a network that is supporting the broader aim of creating a welcoming and inclusive culture for sex, gender, and sexuality diverse people in EAIT and in the broader UQ community. They have initiated a number of social and educational events to make UQ Allies and their importance visible in the faculty.
Pauline Pounds
Pauline is a professor and innovator at the school of ITEE in UQ. She has openly shared her experience living as a transgender woman since 2016. Pauline has also engaged in fighting for transgender women to have the legal rights to bear kids and to become mothers. She is compassionate and driven. She works for an equal and better world for the LGBTQIA+ community.
Grace College Staff
Grace College staff joined the UQ Ally program in 2017. Since that time, they have worked to make their College a safe place for LGBTIAQ+ students. In 2022, they became gender inclusive after being a women's college for 51 years. In their current cohort, 2% of students identify as non-binary. The College celebrates IDAHOBIT and Wear it Purple Day annually.
Kathryn Steadman
Kathryn is the director of our Student Experience Committee and is actively working to promote awareness and visible acceptance of the LGBTQIA+ community. Kathryn has empowered the school to start events and mentorship for LGBTQIA+ community members who need support. She is actively encouraging colleagues to become Allies and has made it a great community to be part of. Kathryn was also active in raising money for the LGBTQIA+ bursary at several key events during 2022.
Courtney Wallingford
Through her roles as Vice President of the Diamantina Student Engagement Committee (DISE) and member of the Equity, Diversity, and Inclusion committee at UQDI, Courtney organised events to raise money for the LGBTQIA+ community. She was also involved organising Wear It Purple events at UQDI, including photo competitions and bake sales to raise awareness and further funds for the charity. Courtney also initiated the acquisition of pronoun pins for all team members to create a visibly inclusive culture.