The UQ Leadership Framework
The UQ Leadership Framework provides a common model and language around the capabilities, behaviours, and skills expected of leaders at all levels at UQ.
The Framework is a levelled approach to articulating leadership expectations, and is the common thread found across all development programs within the suite. The Framework supports contextualised development from aspiring through to senior leadership, for both academic and professional staff.
Read more about the UQ Leadership Framework (PDF, 0.9 MB)
Our suite of programs
The capabilities and behaviours articulated in the Leadership Framework are levelled, and embedded across and within the development programs that form our suite of offerings.
Explore our development programs
UQ leaders ACT
Our leaders role model the UQ values, and prioritise the development and growth of our people to ensure excellence.
Aspire: Enact UQ's vision, anticipate change, leverage innovation for growth.
Cultivate: Exemplify the UQ values, develop high performing teams and positive culture.
Transform: Deliver results that make a difference and create long term value.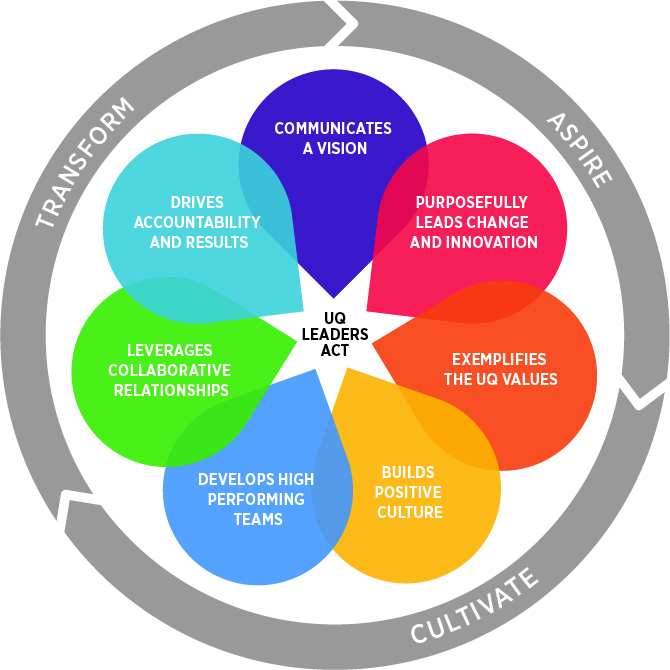 Our core leadership capabilities
The Leadership Framework comprises of seven core capabilities, which each outline a series of expected behaviours and skills. These are underpinned by our UQ values, and should be demonstrated by leaders at all levels.
Communicates a vision
Develops and communicates a clear vision and direction for the future, aligned with UQ's vision, values and aspirations.
Inspires and motivates others to achieve.
Translates higher strategy into meaningful objectives and outcomes.
Aligns teams and individuals in support of strategic objectives.
Purposefully leads change and innovation
Agile, and effectively manages change and unexpected disruption.
Finds innovative solutions.
Fosters a culture of creativity, resourcefulness and learning.
Identifies and capitalises on innovative ideas and practice.
Builds positive culture
Creates respectful and constructive workplaces where people feel safe, included and valued.
Proactively calls out behaviors which are detrimental to building positive team culture.
Exemplifies the UQ Values
Role models the highest ethical standards.
Uses UQ's values to guide actions, behaviors and decisions.
Demonstrates loyalty to the University, staff, colleagues and other leaders.
Develops high-performing teams
Develops the empowered, inspired and high performing teams necessary to secure UQ's future.
Invests time, energy and resources into developing people and helping them to achieve their full potential.
Leverages collaborative relationships
Identifies and capitalises on opportunities to connect and collaborate.
Forges partnerships in pursuit of strategic goals.
Collaborates with purpose.
Upholds the ethos of 'One UQ'.
Drives accountability and results
Holds self and others accountable for delivering against agreed objectives.
Implements and upholds clear measures of success.
Results and outcomes orientated.
Delivers or exceeds agreed outcomes.
Focused on achieving outcomes that deliver genuine value to the University.