Upgrade schedule and time estimates
Included in the standard monthly updates for June and December, we will now be adding Windows feature updates alongside the normal Windows and Office patches.
There are 2 feature updates released by Microsoft every year: 1 mid-year (June) and 1 at the end of the year (December).
The mid-year feature update is larger, taking roughly 30 minutes to install. It includes a set of updates, features and security patches.
The end of the year feature update is smaller, containing feature and performance tweaks and takes approximately 30 seconds to install.
All other updates will be applied as normal with the inclusion of a delayable restart.
The installation deadline will be displayed on the pop-up window. When the deadline has been reached, your computer will automatically install the updates.
Top of page
Expected pop-up windows
When the updates are installed, you will see the standard updates window. The window will give you the following options:
Right now: This will immediately begin the installation and restart the computer.
Outside my business hours: Your business hours can be configured using the link. The updates and restart will begin outside of that period, so not to affect your work
Snooze and remind me: The message will be snoozed and then presented again after the specified time selected.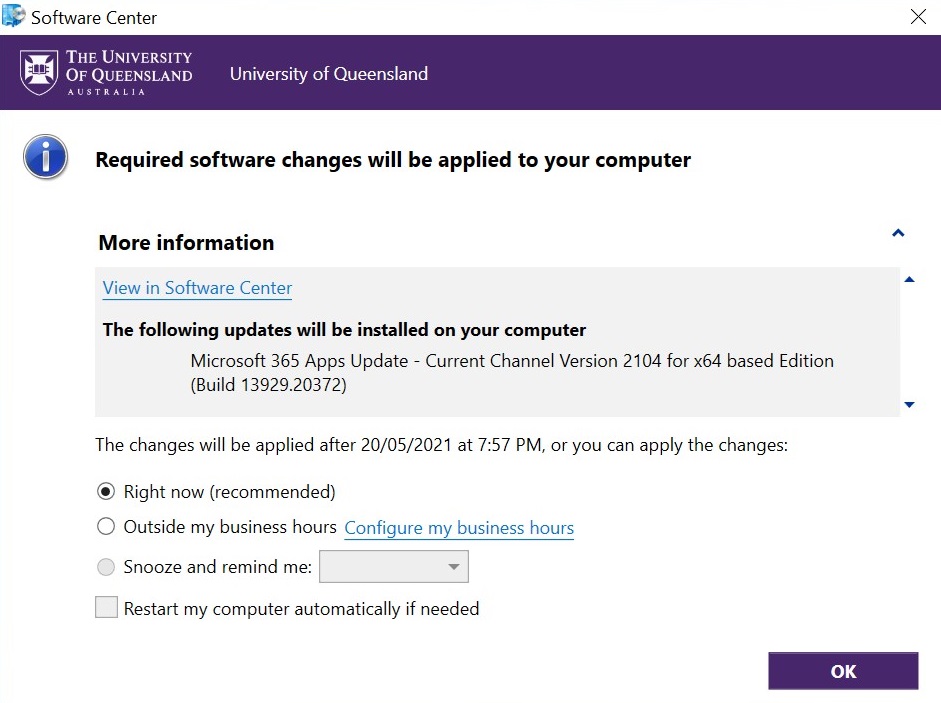 When you click 'OK' the installation process will begin. During the installation your computer may ask you to restart. If this is happens you will be given an 8 hour period to do so. If you restart immediately the update installation will be completed. If you choose to snooze the update, you will receive hourly reminders about the pending restart until the final 30 minutes where you will be no longer be able to dismiss this message. When the timer elapses your computer will automatically be restarted.
If you see only the second message and not the first (due to the type of updates installed), the updates were installed silently and a restart is all that remains.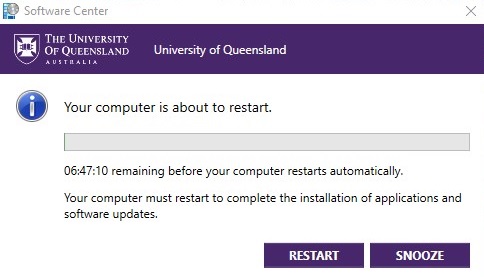 After the installation process is complete, you can log back into your computer as normal.
Should you experience any issues, submit an IT request for advice.
Top of page
Self upgrading
Any major versions of Windows are available to self upgrade shortly after they are released and before they are automatically installed in June, aligning with the mid-year Windows feature updates. To self upgrade:
Open the 'Start' menu, then type 'software center' into the search box.
Click 'Software Center' when it appears.
Within Software Center, select 'Operating Systems' on the left menu.
Click the available software upgrade, then click 'Install'.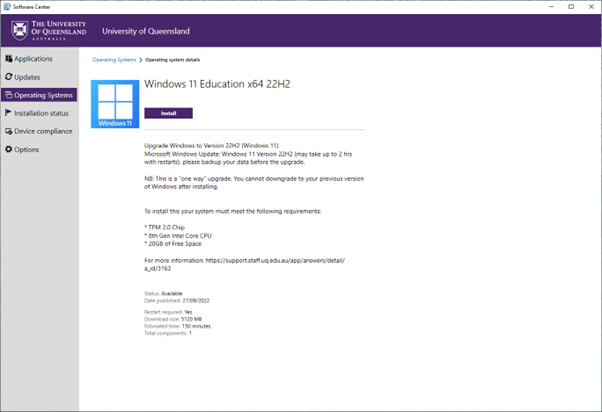 Upgrades can be installed at your discretion, but please note your computer will restart several times and may take up to 150 minutes to complete.
If you have any questions or issues, please submit an IT request.
Top of page