The topic landing page is designed to be a gateway to all the information on a particular topic. 
Create a topic landing page
To create a new landing page:
Navigate to the Information, services and support site
Click the + New button and select Page
Select Landing page template from the Templates list
Click Create page
Always do these before you start work on your content:
Go into Page details and set your topic and next review date
Turn off comments
Update the news and events web parts
When you're ready to publish, also delete the Quick help section from the end of the page.
Page details
This is information about the page. Some of it is shown on the page. Click on Page details to edit the following:
Next review date: a required property; this should be set to whenever the content on this page will need updating, up to a maximum of 12 months
Topic: a required property; choose the topic
Content type: this should be automatically set by the page template. You can correct it here if it isn't right.
Topic landing page sections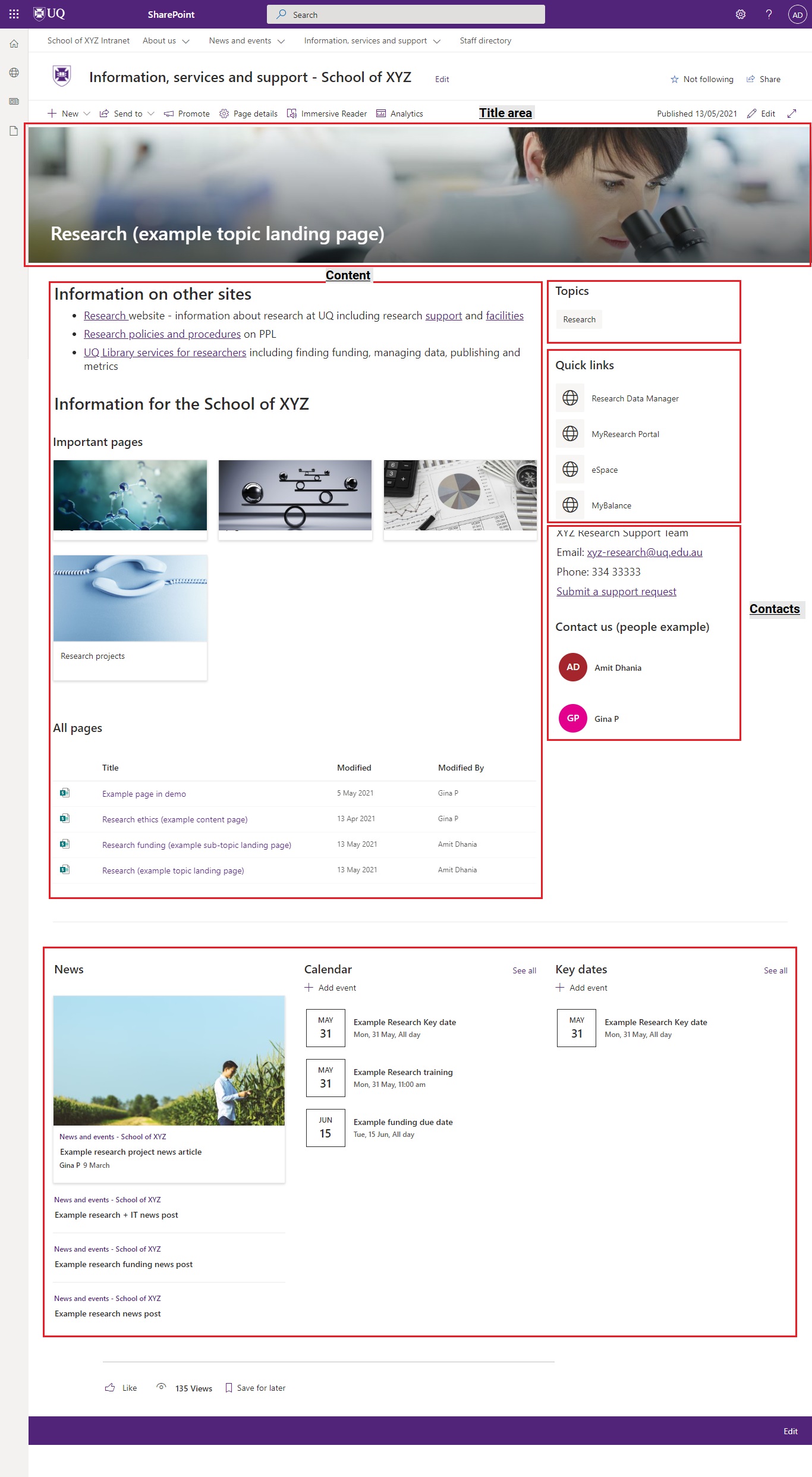 Title area
Content
Topics
Quick links
Contacts
News, Calendar, Key dates
Title area
Choose an impactful image that reflects your organisation's work on a topic.
The default configuration of the Title area is set to Image and title option. Do not change this configuration.
Leave the 'Name or email address' field blank.
Leave the 'Text above title' field blank
Content
Information on other sites 
Avoid duplicating information that is published elsewhere. Instead, use this section to link to information that is published outside your intranet. Include some explanatory text if staff might not know what information is there or why they would need it.
Information for the org unit
This is where your staff get an overview of all your local information on this topic. Include all your pages or sub-sections on this topic here so staff can see everything at a glance. 
The thumbnail images come from the pages you are linking to. If there's no image, add it on the page you are linking to. To add a thumbnail to the page you are linking to:

click Edit > Page details > Change thumbnail
select an appropriate image and click Insert.
Quick links
Use this area for adding 3-5 related items (systems, forms and other resources) that might be related to the page content. 
Contacts
There are two examples here: contacts for a team, and for individual people. Delete anything that you don't need. 
If you use the People web part to display individual people, check the details displayed are correct. The people web part automatically displays user information stored in their M365 profiles. If the details are incorrect, advise users to submit a Service Desk ticket and request updates to their profiles.
News web part
News is surfaced from articles created in the News and events site.
Delete the web part if it's not relevant, or adjust the relative space depending on its importance to your organisation.
You must set the topic when you create a new landing page. To set it:
Click on the web part
Most of the settings can be ignored unless you are a coordinator or super user wanting to change how the feed works
Look for 'No topic set'

Delete 'No topic set' and replace it with the actual topic (type it exactly into the field, it doesn't auto-correct here)
Events and key dates web parts
Events may be surfaced from an event calendar in the News and events site, or from a calendar created for your topic on the Information, services and support site. 
Delete the calendar web parts if they're not relevant, or modify them to suit your topic.
You must update the events and key dates web parts when you create a new landing page:
Click on the web part
Choose the events list and (if applicable) the category
Description
By default, the description is auto-generated from content on your page.
Because the description is displayed in places like search results and news item listings, we recommend creating a description to replace the default content.
To add a description:
Edit your landing page
Click Page details
Replace the default content with a concise description
A description that concisely summarises the page content will help site visitors navigate to the correct page via search results.
Navigation
If you rename an existing landing page or add a new landing page, remember to also update:
the home page, if your topic is featured there
the hub navigation menu
the home page of the Information, services and support site where all top level topics are listed.
Comments
Comments are always enabled by default and unfortunately, there is no way to change this. We recommend disabling comments on landing pages unless the purpose of the page is to engage staff or invite their feedback.
Quick help
At the bottom of the page template is a section containing quick help in an embedded PowerPoint presentation. You can click through the presentation for quick tips for editing your page. When you are ready to publish your page, delete the entire Quick help section. Click in the section and the section controls will appear on the left-hand edge. Click the trash can icon to delete.
Need help?
Ask the Intranet - Org unit community for help through our Microsoft 365 Implementation Support Team.
If you can't find your answer through the community, submit an IT request: