The default home page layout is designed to be a low-maintenance entry point to your intranet. It puts the most-used quick links at the top, followed by news and key dates, information, services and support, and finally a hero image to showcase your organisation's identity and purpose.
If your organisation creates a steady stream of internal news that you'd like to feature prominently on your home page, there's an alternate 'news centric' home page design that replaces the title area with a hero web part for curated features, and the news section underneath it. Read more on how to change the home page on your intranet.​​​​
Home page sections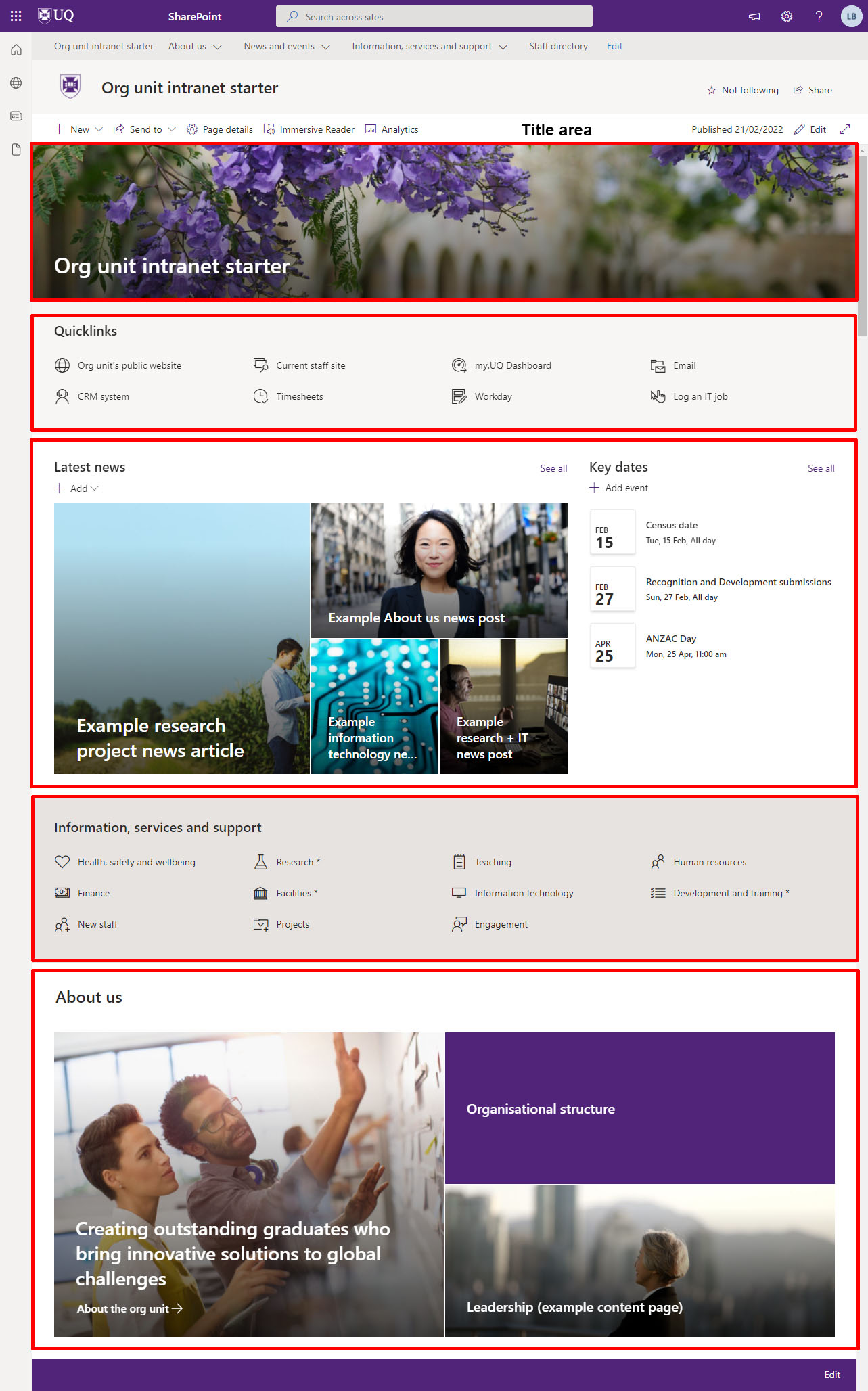 Title area
Quick links
News and Key dates
Information, services and support
About us
Title area
Choose an impactful image that reflects your organisation.
You can change the configuration of the Title area to the Image and title option if you want to use less space.
Leave the Name or email address field blank.
Quick links
Quick links should be to the sites and systems that are most frequently used by all staff in your organisation.
Maximum of eight quick links is recommended
News, key dates feeds
All news and key dates are pulled in from your intranet's central News and events site.

When adding new news or key dates, ensure you add it in the News and events site only.

Delete these if they're not relevant, or adjust the relative space depending on their importance to your organisation.
Information, services and support
We recommend a maximum of twelve links on the home page. Link to the most popular topics here, and make sure all topics are listed on the home page of the 'Information, services and support' site.
About us Hero web part
This section is for showcasing your organisation's identity and purpose. It also creates a prominent entry point to your About us section where staff can learn more about your organisation.
Choose images that reflect your organisation, ideally featuring real people from your organisation and a real quote from your mission, strategy, or leadership.
Comments
Comments are always enabled by default and unfortunately, there is no way to change this. We recommend disabling comments unless the purpose of the page is to engage staff or invite their feedback.
Properties
The Page type should be Home page.
The Topic property on the home page (and utility pages) should be set to 'No topic set'. 'Topic' is a required property. The homepage cannot be published without adding a topic.
The Next review date is a required property and should be no more than 12 months. We recommend reviewing your home page every three months. A page cannot be published without adding Next review date.