Approval for capital works
Capital proposals over $200,000 are submitted as an expression of interest to the Capital Management Group for consideration.
The 2019 Capital works review process and deadlines were circulated to the University Senior Management Group in a memo from Professor Aidan Byrne, Provost (staff login required) (PDF, 474.2 KB) on 28 February 2019.
Submitting a proposal
Expression of interest
An expression of interest (EOI) is used to make an initial request to fund capital works over $200,000.
EOIs must be submitted by 3 June 2019.
You can make a submission at any time until the due date. We encourage early submissions.
Once submitted, your EOI will be assessed by the Capital Management Group (CMG). The CMG will advise you of the next steps and submission dates.
If the EOI is assessed as not suitable for progression, it can be revised and resubmitted, or you can choose to take no further action.
Download the EOI template to help you with your submission:
Business case
Some capital proposals will be developed into a business case. The CMG will advise if you need to complete a business case for your capital proposal and provide you with a deadline for submission. If you have been asked to develop a business case, you will be provided with a template at the time of request.
Sponsorship of EOI and business case
Your EOI and business case must be sponsored and signed off by the relevant authority as follows:
For proposals under $5 million, a member of the Vice-Chancellor's Committee (VCC), an Executive Dean of Faculty or Director of a major (USMG) Research Institute
For proposals over $5 million, a member of the Vice-Chancellor's Committee (VCC).
Strategic and master plan
The Strategic Plan drives UQ's cycle of planning and is articulated through strategic objectives within the University Operational Plan (UOP).
A key action in the UOP is the development of the St Lucia Campus Master Plan, a long-term vision for guiding the development of the campus. The Capital Planning Framework supports strategic consideration and assessment of capital proposals and informs capital planning and budgeting, which is aligned with the priorities of the Master Plan.
Strategic planning cycle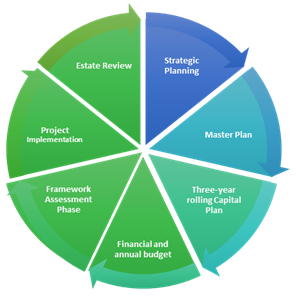 Policies